The release of a new composition took place Reysana Magomedkerimova - "My moon"
I wrote a dynamic love song for the artist Khalif - Reisan's songwriter: "Lovely Eyes", "Fairy Tale Girl" and others.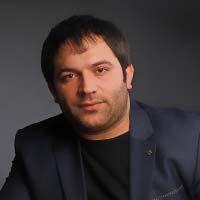 "The audience has already fallen in love with our projects, and I am happy to continue working in this musical style," says the performer, "songs about happy mutual feelings should be bright, danceable, and" My Moon "is just that.
I want her to give everyone a good mood and pleasant emotions. May your loved ones always be with you, and your heart be filled with happiness! "
The single "My Moon" is available for listening on music services and on our website.
Lyrics of Reisan Magomedkerimov's song "My Moon"
Only your beauty illuminates the whole world
Only your eyes sparkle in the night
Your delicate aroma, bouquets of flowers
Only your soul is most important
I'm ready for anything just for you
You are a white rose among the poppies blooming
Betrayal and lies are not your friends
You wanted love and in an instant you found
My heart is beating for you
And the moon did not go out in the sky
The day will be clear as clouds
My moon
My heart is beating for you
And the moon did not go out in the sky
The day will be clear as clouds
My moon
I'm looking for you in a careless world
I want to see your tender look
Like the universe in a clear pool
You are so beautiful, beautiful soul
We are indivisible, from now on forever
You are dear to me
Be closer to me, dear, please
I will save your heart and soul
My heart is beating for you
And the moon did not go out in the sky
The day will be clear as clouds
My moon
My heart is beating for you
And the moon did not go out in the sky
The day will be clear as clouds
My moon
My heart is beating for you
And the moon did not go out in the sky
The day will be clear as clouds
My moon
My heart is beating for you
And the moon did not go out in the sky
The day will be clear as clouds
My moon