Islam Dzhambekov @ j_ray_001 presented a new author's track - "Deceived", and also shared the details of work on the song: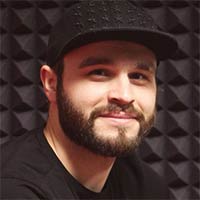 "It was recorded at Life Production studio. Everything, as often happens, happened by itself: he picked up a guitar, played various motives, and inspiration came by itself. Of course, not without improvisation, but every time, coming up with this or that composition, the artist puts in part of himself and part of his life experience, since without this the songs are lifeless or not real. It is especially important to emphasize the deep lyrical component of the motive and its emotional transmission to the listener.
And here, starting with the music and ending with its presentation, I decided to try an unusual genre of performance. Since I am a music lover and listen to almost everything: from classical to modern style, I decided to experiment.
I want to wish everyone the very best, happiness, love and prosperity! And listen to more songs with meaning. Peace and kindness to all! "
Lyrics of Islam Dzhambekov's song "Deceived"
You deceived me,
Lost again in the gray crowd
And I forgot the words that I gave you, I forgot
You deceived me,
Lost again in the gray crowd
And I forgot the words that I gave you, I forgot
I remember, I remember your promises
I believed that you love dear
I know for sure that love will not return
Well, why does life laugh at us
You deceived me,
Lost again in the gray crowd
And I forgot the words that I gave you, I forgot
You deceived me,
Lost again in the gray crowd
And I forgot the words that I gave you, I forgot
I don't believe everything is gone, everything is forgotten
These feelings melted like rain
Your lips, don't forget your shoulders
Everything passes, well, but time does not heal
You deceived me,
Lost again in the gray crowd
And I forgot the words that I gave you, I forgot
You deceived me,
Lost again in the gray crowd
And I forgot the words that I gave you, I forgot
Deceived ooo you deceived me