Fans of the "Arvaidan" ensemble have seen and heard many times how its soloists Nana Tibilova and Nikolay Sinkov perform together with their colleagues in the musical group. But today Nana and Nikolay are presenting a separate composition - their first duet song "I won't forget you", written by Artur Besaev.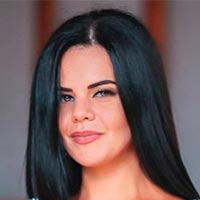 "Kolya and I have been working together for many years, we have" sang together "long ago, but this format is something new for us. The duet was born when we were recording the song "Azaram" for the ensemble, Artur Besaev offered us to record a joint project, and we gladly agreed. In my opinion, it turned out well. I hope the audience will like it too, "says Nana.
You can get acquainted with the single "I will not forget you" right now - it is already available on digital platforms and on our website.
Lyrics of Nana Tibilova and Nikolai Sinkov's song "I won't forget you"
In the silence of the night, just you and me
The wind blows our - love sails
Let the twinkling stars lead there
Where your heart melts from ice
And with dawn we will meet the day
A ray of the sun draws, a shadow on the asphalt
Let it be so today, we part but
I want to tell you one thing!
Not for, I won't forget you
I know it, I know
Not for, I won't forget you
I will lose this war
Not for, I won't forget you
Your eyes are so beckoning
know that I won't forget you
I know it, I know
Not for, I won't forget you
I know it, I know
Not for, I won't forget you
I will lose this war
Not for, I won't forget you
Your eyes are so beckoning
Know that I will not forget you
I know it, I know
Starfall again, I wondered
May all our wishes come true
Tell me about how you were looking for me
What your heart was whispering day by day
I found you and won't let go
I will turn all your dreams into reality
To meet you was destined
I want to tell you one thing
Not for, I won't forget you
I know it, I know
Not for, I won't forget you
I will lose this war
Not for, I won't forget you
Your eyes are so beckoning
Know that I will not forget you
I know it, I know
Not for, I won't forget you
I know it, I know
Not for, I won't forget you
I will lose this war
Not for, I won't forget you
Your eyes are so beckoning
Know that I will not forget you
I know it, I know
Not for, I won't forget you
I know it, I know
Not for, I won't forget you
Your eyes are so beckoning
Know that I will not forget you
I know it, I know
Not for, I won't forget you
I know it, I know
Not for, I won't forget you
I will lose this war
Not for, I won't forget you
Your eyes are so beckoning
Know that I will not forget you
I know it, I know
I know it, I know