Novelty on the music windows - the album was released Aminat Napseva @aminat_napsheva5226 in the Abaza language - "Abaza TsIasla" ("Abaza traditions")!
Listen and download the album Aminat Napseva "Abaza TsIasla"
Each of us sooner or later thinks about who he is and where he comes from. And, as a rule, these thoughts often lead to the family, to the history of the ancestors, the people, and return to their native land. It helps to understand our nature, the roots. The best way is, of course, to communicate with people, but this is not always possible. Then the best way would be to study the creative heritage: literature, drawing, dancing, traditions, music. Music that accompanies a person from birth. Music has a phenomenal cultural value, preserving the traditions, life, spirit and language of the people. His worldview and fundamental principles of life. And let popular culture have long supplanted the traditional, but people still strive to find their roots. Such seekers are always assisted by people who have chosen to preserve and transmit traditional culture to the future generation as the business of their lives. And with one of these guardians we had a chance to talk.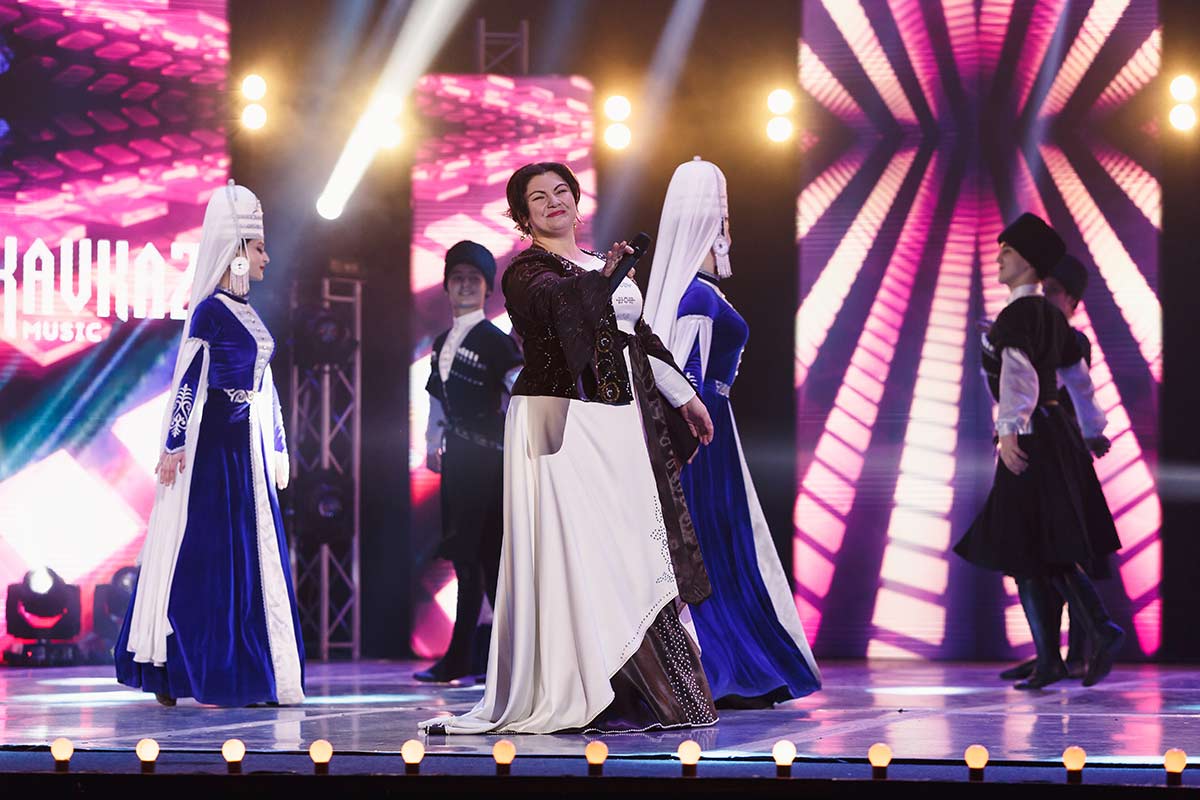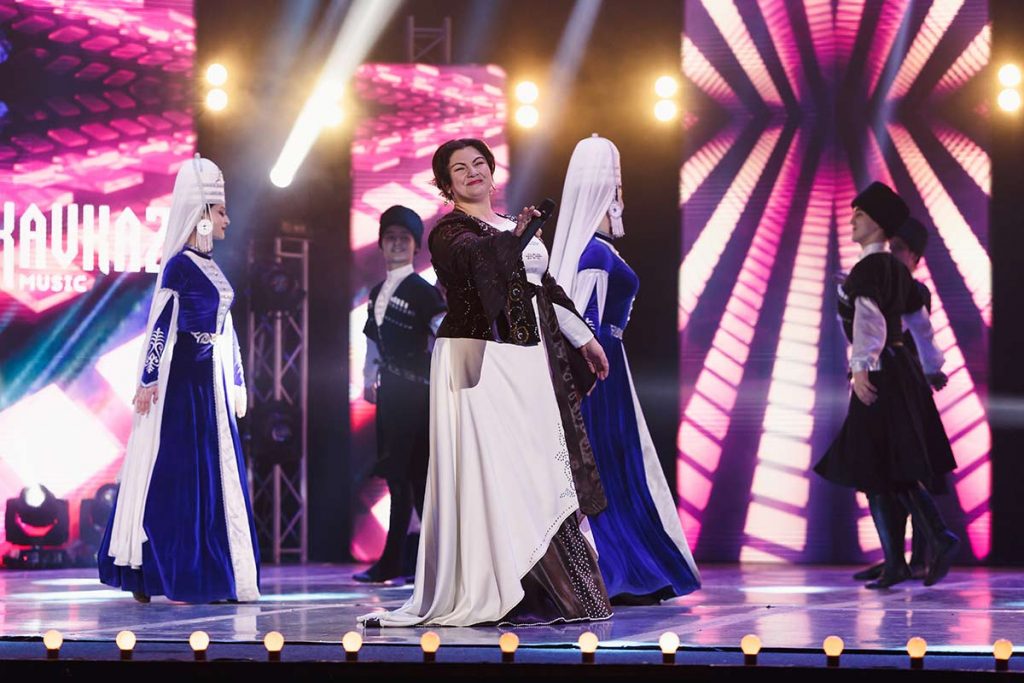 Aminat Napsheva is a recognized star of the Abaza people. Honored Artist of the Karachay-Cherkess Republic, Republic of Abkhazia. They call her "Zykina" of the Abaza people, and people of different nations and generations love and listen to songs. In anticipation of the release of her first solo album, we chatted with her.
- Aminat, in your repertoire you combine a variety of compositions, but you gave priority to traditional songs. Why did you dedicate yourself to this particular area? How important, in your opinion, is the dissemination and restoration of traditional folk art?
- You know, I recently posted something on Instagram. We sang, played on the video, and someone wrote in the comments: "village!", And I said "Thank you!" After all, we are all from the village, aul, all from the people. And it is valuable. I am grateful to God that I do not forget where I come from. Who are my ancestors.
We really lack the spirituality of the people, the secular spirituality of values. This is problem. Our task, even the mission, is to explain, bring unity, spiritual and cultural to people, so that we don't reject a huge layer of our culture and heritage that is conveyed in the songs. After all, a song is a powerful tool, but now something terrible is going on with the lyrics. No rhymes, no high words. I do not want to hear in the song those words that I use every day, I want to hear "dear" words in it, pompous words possible. And at the wedding I do not want to hear the same words, I want to hear words that have retained value and sacredness. In our age, people are scattered words, do not appreciate them. On the Internet, every second you can write "how are you", and then that can not live without me. And it surprises me so much. It has become a scourge of our time. Selfishness glorifies our time. Few people sing that he is in love with someone, but everyone sings about what he loves, and she offended him, killed him, cut him off without a knife. These texts are killing, in fact.
The song has tremendous power. I am convinced that old songs need to be saved, recorded in a new way. After all, they were able to preserve the meaning and content. After all, they were written on a different level, on spirituality, they still live. Live for years! Now the songs appear and disappear one after another. Although they invest a lot in them, once having listened to a song, the second time you don't want to, because there is nothing to listen to.
- And how can you characterize the current situation? What music is demanded by your observations?
- You know, I noticed that our listener now needs something more "poppy", dance, light. In our republic (KCR - approx.ed.) It is precisely such projects that find greater popularity than more complex, traditional or old compositions. But it is nice to see a positive example in this regard in the same Kabardino-Balkaria. They are actively working in the direction of ethnic music, historical, traditional, ritual. They set a high standard for quality and the most wonderful thing is that people accept this culture well. I hope that our students will soon be able to accept and support it.
If we talk about the Abaza culture, then on our stage, to my great regret, there are few names. I can single out Achara Meremkulova, Natella Chamba, the Abazgi group. Few young people devote themselves to traditional music. I hope this situation will change.
A great work, conducted and continues to lead, despite the venerable age, my mentor, the eldest friend, the treasure of our people - Agachev Mukharbi Baskhitovich. He devoted his life to the development of precisely the creative, cultural direction of the people. Restoration of music, teaching children. After all, we were all brought up in creative circles, theaters in our native villages. And he was and remains one of the main keepers of a huge layer of the cultural heritage of the Abaza people.
- Now there is a tendency for the revival of historical and ritual music among many artists of the Caucasus. How do you feel about this area of ​​creativity?
- My personal opinion: the ritual song is a sacred connection between heaven and the person who is here. This is the same prayer. That's when a person goes to heaven, we pray, opening the way for him. That is, it is an integral part of the culture of the people. It seems to me that ritual songs carry a deep meaning, they have a sacred connection with human life and with heaven. This is also a kind of prayer that helps a person to move from one life hypostasis to another. Music, whether we like it or not, clings to the soul, makes the mind think. We are inspired or no-one, we become stronger when the leader sings in front of us. We go to war with the song, we go to the world with music, we rock the baby with a lullaby. It is impossible to take and take it away.
And in modern art there is no global essence and meaning, that is, what it carries is scary. There was a time when they sang about love, but the word did not sound in the song, and the audience sat and cried: "how much a person loves". That is the glorification of spiritual feeling. And the fact that they sing now is physical pleasure. We are now singing the most base feelings of a person, which, to say something other than that, was a shame to think a normal person. Therefore, modern youth, who have come to religion, begin to reject music, because they see it, but they are not offered alternatives. And so, ceremonial music is a prayer at a festival that binds a person to the sky, it is very important. At the same time she should sing the spiritual wealth of man.
Therefore, ritual music is important! It is in any culture! It must be restored, modernized, in the light of the fact that now there are completely different views on life, but the values ​​of ritual music must be unequivocally preserved.
By the way, we are currently working on a project for the restoration of ritual Abaza songs. We hope that it will be possible to implement it together with ANO "Alashara", while in the process of preparing for it, but the project will be implemented in any case! It is very important!
- By the way, about your cooperation with Alashara. Most recently, they released the collection "HIghwa ytimtsIuash auaradkva" (Abazin songs. Unforgettable), in which you participated. Share your impressions about the work and the project itself.
- Let's be honest, "Alashara" is a gift from Mussa Khabalevich Ekzekov to the Abaza people, and Mussa Khabalevich is a gift from above. They do a lot of work, they are great fellows. I really liked their project "HIGvytymtsIuashauaradkva" ("Abaza songs. Unforgettable"), because it is so valuable, the people needed it! This is a new breath of fathers songs. These songs are heard, they are popular. Our music, songs should be preserved and transmitted to youth. I also really like their book publishing projects. Abaza literature, and especially history. This is necessary for our people, our future in many respects depends on the facts of the past, on our memory. The most important thing in historical facts is ethics and truthfulness. And after hundreds of years, our people will remember their heritage. I am pleased that our people do not steal someone else's history, we write our own and this is valuable.
The only thing I would recommend to the children is to put more emphasis on educational projects for our young people. Not everyone can afford a quality, proper education now. But in young people the future of the people. They need knowledge so that they can achieve a lot and our children would occupy decent positions in all sectors, proudly carry their heritage, boldly stepping into the future. Indeed, in our time, knowledge, the mind is the main force and resource for achieving everything, including power. This is not enough for us. Our youth must be competitive and feel comfortable in society.
- Aminat, tell us about your first album "Abaza Ts1asla" (Abaza traditions). What songs does it include?
- I would describe this album as "the voice of a singing heart", because all these songs are deeply connected with me. All of them are dear to me and respond somewhere deep in my soul, every time I perform them. Every word in these songs is of great importance to me. I can tell you - this is my singing heart.
1. Saba Kuna (My father Kuna) is a traditional song, the story recorded by the people in the song. This is a sad story about a girl from the village of Inzhich-Chukun, who was stolen against her will in the village of Kubina to get married. And the girl herself loved the other. This song, experiences, sufferings by the strong spirit of the Abaza girl.
2. Yındzhygyamakyımkva (Music of Inžić) - a penalty for the motherland, this is my childhood, my homeland
3. Gvimauarad (Red East) - this place is the homeland of my grandfather. He loved us very much and invested a lot in our education. We are proud to be his grandchildren.
4. Abaza cXNUMHasla (Abaza traditions) - we often use this song when we get the bride to a new house at weddings .. We use her to sing the race, the heritage, the bride herself and her beauty.
5. Song toast was born at weddings. We are often invited, and we wanted a bright song that would give a mood to the whole event. This song is the opening of a magical celebration of the birth of a new family.
6. The song "My Son" was written for three years. I, like any mother, are proud of my sons, and I have three. This song is loved on holidays, because every man hopes to see himself in it, and every mother wants just such a thing for her son. This is not just a praise, it is a complaint to his son, so that in no case can he ever be inconsistent with these words.