The track "Be with me" was written by Makhach Surkhaev. As the artist says, the composition won her heart from the first words and notes, because it turned out to be about her ...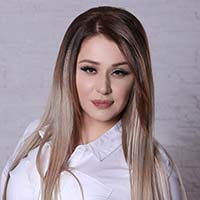 "She reflects my feelings so clearly! And I'm used to sharing them with the audience. Here too - I'm singing about love, real, crazy, which I recently experienced. These emotions, when you give your soul to a person, are ready to follow him and experience happiness, which blinds, are reflected in the song. My story ended in disappointment, but I really want the audience to work out in the best possible way. I wish you all reciprocity and romance! " - says Amina.
The single "Be with me" is already available on streaming sites and on our website.
Soon, the artist will present another track. The composition is called "Draw" and, according to the singer, it will be even cooler than previous projects!