"Hamam" is the first joint project of a famous artist Asker Kushu @05.03.92 and aspiring songwriter Alia Hoot. The decoration of the composition was the phrase in Turkish - "sensiz yaşayamam", which translates as "I cannot live a day without you."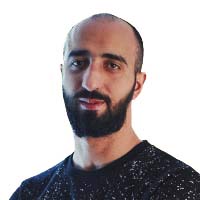 "I was in the recording studio, I heard Aliy humming this song and immediately realized that it was mine. The dynamics, melody and the story itself about the guy who met true love were impressive. So in my repertoire the track "Hamam" appeared. I hope that the listeners will appreciate the novelty. "
The single is already available on the largest digital platforms and on our website.
Lyrics of Asker Kushu's song "Hamam"
Sensiz yasayamam
My girl is like a hamam
Sensiz yasayamam
I will never give you away to somebody
Sensiz yasayamam
My girl is like a hamam
Sensiz yasayamam
I will never give you away to somebody
You are like a dream and this is the beginning
I'm all immersed in music from the carnival
We dance together and this is not enough for us
Adversity you did not charm me
The brunette girl got sick with you
The tablet will not help me what a mess
But when you're near, the disease isn't afraid of me
Treat me with a look the problem is solved
How many do I demand
Is it really impossible to admit feelings
This is not a problem for me at all
Not born to lie
We are not just friends
Sensiz yasayamam
My girl is like a hamam
Sensiz yasayamam
I will never give you away to somebody
Sensiz yasayamam
My girl is like a hamam
Sensiz yasayamam
I will never give you away to somebody
I am pierced by the beauty of the soul mess
Thoughts on interruption speak like that
I would fly with you among the clouds
I am your superhero you are my love
I lost love and found
Love in the world no bad man said
Say love never in a hurry
Until this moment has arrived
How many do I demand
Is it really impossible to admit feelings
This is not a problem for me at all
Not born to lie
We are not just friends
Sensiz yasayamam
My girl is like a hamam
Sensiz yasayamam
I will never give you away to somebody
Sensiz yasayamam
My girl is like a hamam
Sensiz yasayamam
I will never give you away to somebody
Sensiz yasayamam
My girl is like a hamam
Sensiz yasayamam
I will never give you away to somebody
Sensiz yasayamam
My girl is like a hamam
Sensiz yasayamam
I will never give you away to somebody