A new song by Reisan Magomedkerimov - "About Leila"
In the repertoire Reysana Magomedkerimova a dance novelty appeared - the artist presented a dynamic track called "O Leila".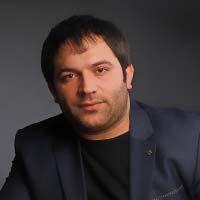 "This is a light, pleasant composition, not devoid of romanticism," says Reisan, "I think it will appeal to fans of modern music.
Thanks to the author of the track Ruslan Abdokov for his work and, of course, to you, dear listeners! After all, it is your feedback that inspires me to new projects.
I wish everyone a great mood, good songs and positive events! "
Lyrics of Reisan Magomedkerimov's song "About Leila"
You turn around, turn around
Baby honey come back
I beg you don't go
I ask you to come back to me
You turn around, turn around
Baby honey come back
I beg you don't go
I ask you to come back to me
She promised to be by my side
I only said yours
My girl about Leila
I will always be with you
Lured me back into my net
It's a ghostly fog
My girl about Leila
I know this is just a lie
You turn around, turn around
Baby honey come back
I beg you don't go
I ask you to come back to me
You turn around, turn around
Baby honey come back
I beg you don't go
I ask you to come back to me
The wind quietly whispers your name to me
Says that you are mine
My heart doesn't beat without you
After all, life is not the same without you
Lured me back into my net
It's a ghostly fog
My girl about Leila
I know this is just a lie
You turn around, turn around
Baby honey come back
I beg you don't go
I ask you to come back to me
You turn around, turn around
Baby honey come back
I beg you don't go
I ask you to come back to me
You turn around, turn around
Baby honey come back
I beg you don't go
I ask you to come back to me
You turn around, turn around
Baby honey come back
I beg you don't go
I ask you to come back to me