Oksana Dzhelieva @oksana_dzhelieva_official presented today a very funny, positive and tender song written by Margarita Biragova - "Bright dress"!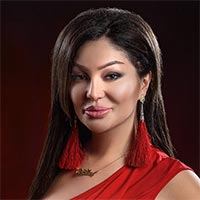 "This composition is about my beloved man," says the performer, "I think every man would dream of writing and singing such songs about him - full of recognition and sincere emotions. I always say - if the track is about love, then it is dedicated to my beloved, and I urge the listeners, without hesitation, to express their feelings.
With the refrain words "I will put on a bright dress ..." I convey what I would like to do for this person in the literal and figurative sense: dressing up for him, delighting him, making our life even more colorful. This is female happiness. "
Oksana Dzhelieva: "This summer I want to shoot a beautiful video ..."
The artist also shared her plans for filming the video for the new composition: "This summer I want to shoot a beautiful video. The sun, heat, dancing, gypsies, maps ... Many ideas! I want the clip to be as fiery and playful as the track itself. "
The single "Bright Dress" is already available on the windows of the largest digital stores, as well as on our website. Have a nice listening!
Listen and download Oksana Dzhelieva's song "Bright Dress"
Official Instagram of Oksana Dzhelieva