New from Vlad Kornilov - sensual, heartfelt author's composition "She dances with me"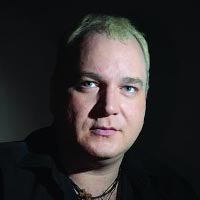 "Everything that I write, I take from my own life or from the stories of my acquaintances," says the performer, "and I noticed that often people live their lives without finding their true, real, heaven-destined half. Although I'm sure everyone has it, you just need to meet it. I met mine after going through four marriages. For the fifth time - this is really my woman, my love, my goddess and the universe! But before it I went by trial and error.
And the song is just a story about such love. It happens that a person lives with one person, but he loves something completely different and cannot change anything, or does not want to. And now he dances with this woman, realizes that she is not his, and he will never be more for her than just a stranger. But in these seconds, while the dance lasts, she belongs to him. All dreams and dreams - in one dance, and more, unfortunately, will not be ...
I want to wish everyone on this earth to find their soul mate! Because this is true happiness - when you cannot breathe without a person. "
Listen to Vlad Kornilov's song "She dances with me" on digital platforms and on our website.
Lyrics of Vlad Kornilov's song "She dances with me"
Let her speed be yours
But now she's dancing with me
Your loyal and gentle friend
She dances with me
It's her eyes that scream at me
Yes Yes Yes
This quick look
One question is when
Yes Yes Yes
She dances with me
A smile shines in her eyes
Her love is my mistake
We are silent, but it doesn't matter
We breathe paper happiness
Well why is the heart beating so
When you walk by
You will never be more
Than someone else's beloved
It's her hand that slowly slides over me
What nonsense. She sees us in her dreams
She dances with me
A smile shines in her eyes
Her love is my mistake
We are silent, but it doesn't matter
We breathe paper happiness
Well why is the heart beating so
When you walk by
You will never be more
Than someone else's beloved
Well why is the heart beating so
When you walk by
You will never be more
Than someone else's beloved
She dances with me
She dances with me