Gilani Stadnik and Joel have released the song "15.28.16"
In the new track of the ward musician Gilani Stadnika - Joel, - the time of death of the great woman - actress, dancer-innovator, choreographer and lover of Sergei Yesenin - Isadora Duncan - is forever immortalized. A heartfelt and touching composition called "15.28.16" is like the cry of Isadora's soul, rushing to meet eternity ...
This song was born about seven years ago, at a time when, according to Gilani, he began to get involved in the biographies of the classics of Russian literature.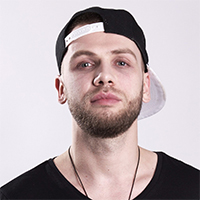 "Then I decided to get acquainted in more detail with the biographies of poets and writers whose work I have loved since childhood: Yesenin, Pushkin, Dostoevsky, Mayakovsky. Studying Yesenin's biography, I learned about the love story with Isadora Duncan. I began to delve into the biography of this great woman. She impressed me with her innovation, this scandalous dance story, to which she contributed a lot. How desirable and undeniably talented she was. And this very strange death ... When she was driving a convertible, she strangled herself with a red scarf, with the words "Goodbye, I'm going to glory!" This happened after she found out that Yesenin committed suicide in St. Petersburg. This red scarf, the statement of death at 15 hours 28 minutes 16 seconds and love on the verge could not fail to impress me as an author. So I decided to write about it, "Gilani says.
You can listen to the song "15.28.16" right now. It is available on all major music services, including: iTunes, Google play, Apple music, Beeline Music, Yandex.Music, and also in the BOOM application (for users of social networks Vkontakte and Odnoklassniki).
Listen and download Joel's song "15.28.16"
The song "15.28.16". History of creation
The track lay for a long time "in drafts" due to the fact that no one could perform it the way the author imagined. Until one day Joel found him and offered to work on the project ...
"I thought: why not? - says Gilani, - we started rehearsing, and I realized that this song suits her like no one else! Nobody else can sing it like that. We decided not to stop there, and to implement a long-standing idea: to go to St. Petersburg, to the Angleterre hotel (now called International) and record this track using a portable studio in the room where they found the body of Sergei Yesenin. When they began to study the chronicle, they learned that after the war the building was rebuilt and room number five no longer exists. There are other rooms. But we found a room in approximately these locations. Even the guests and service staff say that Yesenin's ghost still wanders there. Unfortunately or fortunately, we did not feel anything like that, but as planned, we recorded the voice in this place. Thus, "dry" vocals, practically without processing, got into the track. "
Plans for Stadnik and Joel to shoot a video for a new track
"It is not enough to record a song dedicated to a great man and his love story. I would also like to present it all accordingly, not to tarnish the memory. After all, we are talking about the history of Russian poetry and culture. To touch this is very disturbing, scary. I would like to do everything as beautifully as possible, "Gilani comments.
In addition, the artists finish the work on the album Joel.
"The album will be very interesting in terms of performance and musical content. It will include frank modern motives, and a lot of ethnicity, and a lot of cultivation in terms of the symbiosis of sound, and more. We have gone through many conversions, rebranding, and have been looking for its direction for a long time. The first tracks were an experiment for us in terms of "cry from the heart" and professionalism in general. Because Joel has wanted to sing all her life, but she has never done vocals before. She and I learned musical notation, solfeggio from scratch, studied vocal and stage speech with teachers.
We are growing and in every track, it can be seen, the result impresses me. From a girl with a desire to sing, she turned into a stage professional and this is not yet the limit. Our songs are played on federal radio stations, the clip "I Am Your India" is also rotated on several TV channels. Now we are finishing the album under the working title "15.28.16" and further we have a lot of interesting things ahead. At the moment I am proud of my work and for me Joel is the top performer in my projects, I love all our songs. This is our creativity, the result of friendship, communication, work. This is our all! Creativity is very honest, so I think it will be interesting to people. "