A novelty on the windows of digital stores - a new author's composition of the singer has been released Maru - "Become my sky"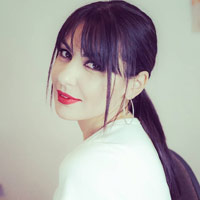 "This song conveys the feelings that I experienced at a certain moment in my life. It contains sincere emotions and words that come from the heart, "the artist comments.
The singer also said that she is now preparing 2 more new singles: a duet with Aydamir Eldarov "Heart to Shreds", and also - a track called "I Love You".
Both songs will be out soon, so stay tuned. In the meantime, let's get acquainted with the compositions "Become my sky", which you can already listen to on digital services here.
Lyrics of Maru "Be My Sky"
Look into my heart
Look into my soul
I will break all the prohibitions for you
You are like a drug
I'm getting used to you
I run you through my veins
I'm ready to lose the war to you
Become the most tender for you, tender for you
You, take me captive, please
Become the sky for me, the universe for me
You are a hot flame
You burn me
In the captivity of your hands you knock off all sights
Only touch with a glance
Touch with just your breath
This night with you we are flying beyond the bounds
I'm ready to lose the war to you
Become the most tender for you, tender for you
You, take me captive, please
Become the sky for me, the universe for me
I'm ready to lose the war to you
Become the most tender for you, tender for you
You, take me captive, please
Become the sky for me, the universe for me