A romantic composition about love and parting was released by the singer Elvina
Elvina presented the second project with Zamira Zhaboeva - the composition "High", - this time the song is dedicated to the thoughts and feelings of a strong, unconquered and generous nature - the heroine of the video of the same name directed by Murad Nazarli.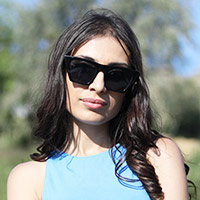 "The video was filmed in a studio in Baku and on the shores of the Caspian Sea. The filming process itself was very interesting and exciting. At the same time, we can say that there were no personal circumstances related to the plot in my life, although of course every person always has partings behind them. After all, love and separation are always next to each other, and the second sometimes wins over the first. Life is complicated. People break up because they change, life changes. And in this case, you have to take an exam for maturity. The main thing is not to break down and let go of these feelings.
I want to wish all my listeners great and endless love, always listen to music with taste, and I also want to thank you from the bottom of my heart for always supporting and inspiring me with all your might! Thank you for being with me!"
Elvina was born, grew up and lives in Baku, she graduated from a music school with two diplomas (piano and vocals). She studied piano and at the same time sang in the choir of the same school. Since childhood, she imagined herself on stage and dreamed of a career as a professional singer. She studied for two years at the Uzeyir Gadzhibekov Music Academy, for 15 years she was a soloist of the Lezgi folk song and dance ensemble "Suvar", the founder and artistic director of which is Sedaget Kerimova.
In people, he most of all appreciates honesty, sincerity, mutual understanding and striving for goals.
Life motto: "Thanks to those who love me - you make me better! Thanks to those who do not love me - you make me stronger!
Download a song: https://zvuk-m.com/YBVOQ