Just the other day, a new song appeared on the air of Radio Chanson Roberta Katchieva "Under the Balcony" And, judging by the first responses, the song will gain listener love and become a hit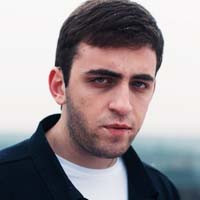 "We wanted to pay tribute to the classics of the courtyard song Petliura, Nancy, Tender May, as is customary in the Caucasus. We hope that listeners will love our song Radio Chanson, and all the romantics of our country will perform it in the yards and, of course, under the balconies of their beloved ones, "says Robert.
The song "Under the Balcony" has everything for which we love the genre of a yard song - a sincere and romantic text, a simple and understandable melody, and the Caucasian flavor adds charm to the song. Confess your love with the new song "Under the Balcony"!
Video clip of Robert Katchiev "Under the balcony"