Great news for fans of creativity Mousses of Aybazov @mussa__aybazov и Zurab Uzdenova @uzdenzu - a duet composition of artists - "As long as I'm alive" was released!
As the author of the text Mussa Aybazov said, the words for this track were written by 6 years ago, and his film of the same name inspired it ...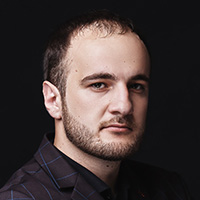 "It happened in 2013, during my student days. I saw the picture "While I'm Alive" and was amazed at the dedication of the protagonist, who decided to challenge fate in order to prove to his beloved that she was wrong, that it was not worth leaving everything to fate. Each person is able to receive what he really desires with all his heart. This song is not about a guy who runs after a girl, but about a man who is ready to risk his freedom, his happiness, his life for his word. This is how the text appeared, "says Moussa.
Well, after several years, when the musicians sang songs on a guitar one evening, the author opened an application with notes on the phone and, having looked at the text together with Zurab, they picked up suitable music.
"We both liked the result, because there is sincerity in every note, in every word. And when we tried to sing this song together, we realized that it was worth recording a duet. She hooked each of us in her own way. At that very moment, without thinking twice, I called the arranger and musician Nuradin Satyrov, and a few days later work on the project began.
Today, on the day of the premiere of this track, I would like to say - listen to the songs not with your ears, but with your heart. This is the only way to understand what this composition is fraught with. "
Zurab Uzdenov: "I am sure that this single will touch the hearts and make you think. Life is one and you need to cherish what you have. Love and be loved!"
You can listen and download the single "While I'm Alive" on our website.
Listen and download the song of Mussa Aybazov and Zurab Uzdenov "While I Am Alive"
Lyrics of Mussa Aybazov and Zurab Uzdenov "While I Am Alive"
Without a drop of doubt, without fear of eternal darkness
I won fate for the hundredth time
And in the night of oblivion, you left
But don't forget me the bitterness of your phrases
I cannot forgive false words
What loving told me
You pushed into the abyss, told me to leave
You and I will no longer understand
While I am alive, the heart will love
While I am alive, able to forgive
I lost in the fight with myself
But don't break my fate like crystal
Light illuminated the room of the soul
Which merkla day after day
Marvelously appeared expecting you to love
Made my heart burn with fire
I fell in love not knowing that you are not for me
That fate has a different ending for us
But I will not put up with it
I will fight, only one heart has given you
While I am alive, the heart will love
While I am alive, able to forgive
I lost in the fight with myself
But don't break my fate like crystal
While I am alive, the heart will love
While I am alive, able to forgive
I lost in the fight with myself
But don't break my fate like crystal