Five compositions in Russian and one in Kumyk entered the new author's album Shamilya Kasheshova @shamil_kasheshov "Unusual." The artist presented a novelty today.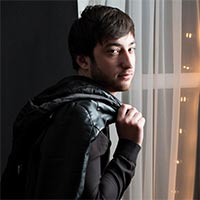 "These songs were created at different times, written under different circumstances and with different thoughts. Therefore, the track list turned out to be quite interesting. The single that gave the name to the album is high-quality and funny - this is the mood I wish my listeners in. As for my favorite compositions, for me this is the song "We Will Be Together". I always get special pleasure when I perform it. I hope that the emotions that are contained in the tracks will be transmitted through the music to my audience, "the artist shared.
We invite you to listen to the album "Unusual" right now.
Listen and download Shamil Kasheshov's album "Unusual"
Lyrics of Shamil Kasheshov's album "Unusual"
Extraordinary
We will go there
Where unexplored happiness
We will go there
Where is unearthly beauty
We will find love with you
She is like a medicine for us
We will find peace with you
And spring will be in the hearts
I will call you one
The queen of her life
I will pass the world for you
Humming this song
My dear is with you
Happiness in my heart is full
I come to you with all my heart
I'm only sick of you
Extraordinary mine
Only you for me
Extraordinary one
Took my life
Like a dream came to me love
Don't wake me
Extraordinary mine
The best
I thank fate, my dear for you.
How I cherish you, the world will not know about it.
Like the sun a bright light, for me your smile.
After all, you are not nicer, you are my attempt at life.
We will go there
Where is the unknown happiness
We will go there
Where is unearthly beauty
We will find love with you
She is like a medicine for us
We will find peace with you
And spring will be in the hearts
Extraordinary mine
Extraordinary
Extraordinary mine
Extraordinary
Extraordinary mine
Only you for me
Extraordinary one
Took my life
Like a dream came to me love
Don't wake me
Extraordinary mine
The best
Extraordinary mine
In life
And we go through life with a smile
We like brunettes, blondes
We choose what our soul needs
This life is God's reward for us
And we go through life with a smile
And draw pictures for life
And as if life did not upset us
There is a chance to start all over again
And we live in sorrow and in joy
And God grant us to live to old age
Happiness with loved ones sharing
And not upsetting each other
And we live in sorrow and in joy
And God grant us to live to old age
Happiness with loved ones sharing
And not upsetting each other
And we go through life with a smile
And every day is our attempt
Change something for the better
And share this happiness for us equally
And we go through life with a smile
And behind my back there are mistakes
But you must not lose heart
We will fight for our own
And we live in sorrow and in joy
And God grant us to live to old age
Happiness with loved ones sharing
And not upsetting each other
And we live in sorrow and in joy
And God grant us to live to old age
Happiness with loved ones sharing
And not upsetting each other
And we live in sorrow and in joy
And God grant us to live to old age
Happiness with loved ones sharing
And not upsetting each other
And we live in sorrow and in joy
And God grant us to live to old age
Happiness with loved ones sharing
And not upsetting each other
And we live in sorrow and in joy
And God grant us to live to old age
Happiness with loved ones sharing
And not upsetting each other
We will be together
We will be together dear
Together for the rest of our days
We will be together dear
And love we will find soon
We will be together dear
And everything will be fine
We will be together dear
And we'll sing together
You hit my soul so well
Its quiet, simple beauty
I rarely fell in love in my life
But I fell in love with you soul
You are beautiful, tender, fragrant
Fragrant as a rose in the garden
Know that I'm glad that I fell in love with you
And I do not believe that everything is in reality
We will be together dear
Together for the rest of our days
We will be together dear
And love we will find soon
We will be together dear
And everything will be fine
We will be together dear
And we'll sing together
I know dear will be a support
I know you never give
Even if there were quarrels
He knew that you loved me, you alone
And I want to say only thanks
For your warmth and love
Be mine always you dear
And I sing to you again and again
We will be together dear
Together for the rest of our days
We will be together dear
And love we will find soon
We will be together dear
And everything will be fine
We will be together dear
And we'll sing together
Come back
That day when I saw you
A star fell from heaven to earth
A smile of golden heavenly beauty
Brought my fate forever with you
A smile of golden heavenly beauty
Brought my fate forever with you
Why are you running away from me
Favorite come back I beg you
Believing the words of others
You run away from love
And after saying bitter forgive me
Believing the words of others
You run away from love
And after saying bitter forgive me
I know, know my dear
That you still love only me
And let ten years pass
And there will be a bitter mark in life
I no longer have this place in my life
And let ten years pass
And there will be a bitter mark in life
I no longer have this place in my life
I beg you beloved come back
Share grief with me in joy
Give me your love
We will always be happy
You will only be my dear
Give me your love
We will always be happy
You will only be my dear
Irena
Walked down the street at night
Suddenly I saw your image
Slender girl in a red dress
Took all my peace
And now I'm not mine
How love shark are you dangerous
Walked down the street at night
Suddenly I saw your image
Slender girl in a red dress
Took all my peace
And now I'm not mine
How love shark are you dangerous
Irena, you are like a queen
Irena, I'm happy that I have you
Irena, you are like a queen
Irena, I'm happy that I have you
Kiarangi gohe geche
Seny syydyum men neche
Seny yaryk gozlering ayavlum
Saga dosum cheese cheche
Men yirlayman bu geche
Sagya dosum men baldum bailavlyu
Kiarangi gohe geche
Seny syydyum men neche
Seny yaryk gozlering ayavlum
Saga dosum cheese cheche
Men yirlayman bu geche
Sagya dosum men baldum bailavlyu
Irena, canopy gozlering yarygyn syumen
Irena, sen bolmasang yanimna memen bek guymen
Irena, canopy gozlering yarygyn syumen
Irena, sen bolmasang yanimna memen bek guymen
Irena, you are like a queen
Irena, I'm happy that I have you
Irena, you are like a queen
Irena, I'm happy that I have you
I am looking for you
Kyargya bagyap karayman
Görme Bolmayman
Ayavlum sensizmen turma bolmayman
Karasamna saga guyup goethemen
Shulailikyta dosum jashap netemen
Ball yimmk tatuvlu tatuvlu
Sezlering is izleymen, izleymen
Yash Yugim Yashnay Syuyup
Men Senzi Gozleimen
Ball yimmk tatuvlu tatuvlu
Sezlering is izleymen, izleymen
Yash Yugim Yashnay Syuyup
Men Senzi Gozleimen
Not a Bola Sen Magya Sen Magya Gelseng
Not bola sen meni sen meni syuseng
Not Goryuner magya kaarasang dosum
Tamasha ishler bar avrup olmesem
Ball yimmk tatuvlu tatuvlu
Sezlering is izleymen, izleymen
Yash Yugim Yashnay Syuyup
Men Senzi Gozleimen
Ball yimmk tatuvlu tatuvlu
Sezlering is izleymen, izleymen
Yash Yugim Yashnay Syuyup
Men Senzi Gozleimen
Ball yimmk tatuvlu tatuvlu
Sezlering is izleymen, izleymen
Yash Yugim Yashnay Syuyup
Men Senzi Gozleimen
Ball yimmk tatuvlu tatuvlu
Sezlering is izleymen, izleymen
Yash Yugim Yashnay Syuyup
Men Senzi Gozleimen