Summer novelty from Jano @ official.jano! Today the release of the artist's bright dance single - "Juicy Peach" took place. About how the composition was born, the performer says: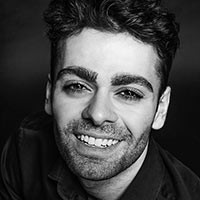 "I was on the road in a car, it was a sunny, beautiful day, and I saw a very beautiful girl crossing the road, and a car popping out from around the corner. And I shouted: "Girl! Op-op-op! ", And I myself look after her and think: she has such an" oops ... "beautiful! (laughs). These thoughts came to my mind, and the track was born about "op-op, juicy peach!".
It seems to me that the listeners will like the song with fun, buzz, a beautiful musical arrangement and, of course, passion, an irresistible desire of pepper to connect with a peach! Such an interesting story happened and, of course, in the relationship between a girl and a man they should always be as juicy, sweet, tasty, like a peach! And without a pepper in a relationship - no way ... ".
Lyrics of the song "Juicy Peach" by Jano
I can't imagine how I lived before without you.
Stole the heart in broad daylight
Bewitched and sunk into the soul - I myself am not
I just think the days away about you alone
Fell in love like a boy
And there is a flash in my heart
I can not do anything with myself
And starry nights
I miss you
I want to hear your sweet voice
Op op op you are my juicy peach
Op op op I'm your hot pepper
Op op op I'm going crazy with love
Op op op A bird in the morning in the sky
Op op op wave your eyelashes
Op op op And I'll kiss you
You are my sweet, sweet heart - you are mine
Someday i'll steal you
I lose my mind from passion I burn for you I want
And I invite you on a date, I'm not joking
Fell in love like a boy
And there is a flash in my heart
I can not do anything with myself
And starry nights
I miss you
I want to hear your sweet voice
Op op op you are my juicy peach
Op op op I'm your hot pepper
Op op op I'm going crazy with love
Op op op A bird in the morning in the sky
Op op op wave your eyelashes
Op op op And I'll kiss you
Op op op you are my juicy peach
Op op op I'm your hot pepper
Op op op I'm going crazy with love
Op op op A bird in the morning in the sky
Op op op wave your eyelashes
Op op op And I'll kiss you
Op op op you are my juicy peach
Op op op I'm your hot pepper
Op op op I'm going crazy with love
Op op op A bird in the morning in the sky
Op op op wave your eyelashes
Op op op And I'll kiss you