New author song released Shamkhan @shamkhan_official__ "Dance, dzhigit!", Which the artist dedicated to lighting a fire in the hearts of Lezghinka, as well as dzhigits skillfully mastering this dance!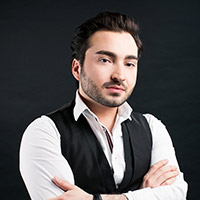 "The idea of ​​the video was born in my head a long time ago," says the performer, "I wanted to convey the character and beauty of the dances of the peoples of the entire Caucasus. The script for the video was kept in my archive for a long time and, thanks to the talented young Kazakhstani director Almas Akhazhanov @createstoryone , we managed to translate this idea into reality. He added a twist to the project, decorating it with his ideas. "
A video was shot in Kazakhstan, for choreographic performances, dancers from three ensembles were selected: Caucasian dance ensemble "Tarki-Tau" @tarkitau_school, Folk Dance Ensemble "KAVKAZ" @kavkaz_kzz and ensemble under the direction of choreographer Mavlet Safarov @mavlet_safarov. Well, the main part Shamkhan performed himself.
"Since 6 years I have been dancing in the Almaty Vainakh ensemble, and in 14 years I have already performed in the Moscow Lovzar ensemble. Therefore, in the new video, I tried through dance to express all my love for this type of art. We have been preparing for this shoot for several months, and I am very grateful to the dancers who took part in the project for their work. For how professionally they managed to convey the character of the Lezgin sung in this composition. I also want to say thank you to designer Tamara Lamanukaeva @tamara_lamanukaeva for great costumes!
Special thanks to the company "Zvuk-M" @zvukm and to all employees of the publishing house for collaboration and trust! Especially for General Director Mikhail Yugov. I am glad that we have been walking together along this creative path for many years! " - says Shamkhan.