Rustam Nakhushev again pleases fans with a novelty - the song "On the Edge" was released, as well as a video for it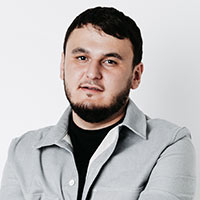 "We wrote the lyrics to the composition together with Artur Kencheshaov, - says the performer, - I chose the music myself. The result is a soulful song, exciting. Which I hope people will listen to on repeat. And, according to the established tradition, I will present it together with the video. "
A video about the love of two young people was filmed in Pyatigorsk, directed by Mega Katchiev
In the story, the girl spends evenings in a restaurant, sewing off casual boyfriends and waiting for a call from her beloved, who comes to her only at the very end.
The role of the main character was played by Diana Shibzukhova, and Rustam got the role of her lover.
"Relationship stories are different. We tried to show something new, interesting, intriguing plot that you want to follow until the end. And he, as many love, turned out to be happy.
Listen and watch with pleasure! I wish everyone mutual love, reciprocity and inexhaustible romance in a relationship! "