New single released Amines Magomedova - "Unrequited love"
Despite the sad theme disclosed in the song, the track itself that "you cannot order your heart, you can never deceive your heart" turned out to be quite bright, optimistic and dynamic, in the style of a Caucasian lezginka.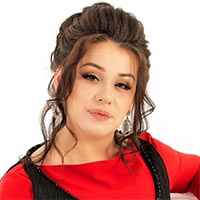 "I wrote the song Zumrud Musieva," says the singer, "the theme of unrequited love has always been and remains relevant. It is close and understandable to many: both those who were denied reciprocal feelings, and those who had to do it. In the future, I plan to shoot a video for this composition, playing up the history of the main characters, and show by their example that there is no need to despair. The pain will pass, and true love is sure to wait for everyone somewhere.
I wish my listeners good health, may everyone have mutual love, and I will try to please you with new compositions! "
Listen to Amina Magomedova's single "Unrequited Love" on the largest music services and on our website.
Lyrics of Amina Magomedova's song "Unrequited Love"
I ask well go away
And don't follow me
Do not go on your heels
I won't give you a word
I don't want your poetry
Do not give me flowers
I told you no
This is my answer
I know you can't order your heart
I know you can't deceive your heart, never
Well, believe me, there will be no happiness
If unrequited love is yours
I know you can't order your heart
I know you can't deceive your heart, never
Well, believe that happiness is near
Where your love awaits you
Where your love awaits you
I ask you to understand
And don't blame it
All the beautiful words
This is all not for you
After all, the beloved will come
The one that loves and understands
Well, we are not on our way
Forgive me
I know you can't order your heart
I know you can't deceive your heart, never
Well, believe me, there will be no happiness
If unrequited love is yours
I know you can't order your heart
I know you can't deceive your heart, never
Well, believe that happiness is near
Where your love awaits you
Where your love awaits you
I ask you not to be angry
Take it and smile
Everything will pass and your pain
Will give you happiness
May your dreams come true
Love her, love her
Well, forget about me
Happiness can't be fooled
I know you can't order your heart
I know you can't deceive your heart, never
Well, believe me, there will be no happiness
If unrequited love is yours
I know you can't order your heart
I know you can't deceive your heart, never
Well, believe that happiness is near
Where your love awaits you
Where your love awaits you