Today, listeners of Radio Chanson will get acquainted with the new composition of a popular artist Goshi Grachevsky @gosha_grachevskiy - a remake of the song "Violinist". The track will premiere on air at 14:07.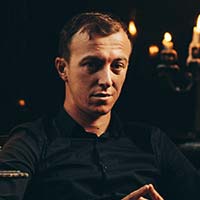 "There is some incredible lyrics in this song. Both words and melody penetrate the very heart. Perhaps this is her secret. Every time I heard the "Violinist", almost a lump in my throat became, and my heart was filled with sadness. This yard song has always been very close to me, passing from mouth to mouth.
We tried to preserve in our version of this composition all the most beautiful that is in it, and also emphasize the deep lyrics. The adaptation of the text and the music was prepared by my permanent mentor, composer - Timur Kitov... We hope the public will like the new track. Peace to you, dear listeners of Radio Chanson! " - the performer announced his new single.
On digital platforms, the song "Violinist" will appear from day to day. Stay tuned!
Join Gosha Grachevsky on Instagram
[elfsight_instagram_feed id = "92 ″]