Adissa presented a new composition - "Thought"
Creative life Adissa boils: the singer participates in a choreographic project, records musical compositions, prepares an album for release, but today she presents a new song - "Thought", in which she shares her own emotions with the audience.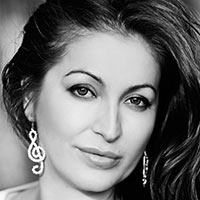 "It was written by Timur Kitov, the plot is based on my personal experience," says Adissa, "I recently had to go through a breakup and, of course, it was a painful moment. But life goes on, over time you realize that everything is really for the better and in the end you see that the new stage only benefited everyone. My new song is about this, I think this topic is close to many ".
Having survived the loss, the singer plunged headlong into the creative process. Now her life is filled with music and dancing. Adissa is one of the participants in the "Everybody Dance!" Project, launched by the choreography department of the North Caucasus State Institute of Arts. Within the framework of this project, for two months, professional choreographers are practicing dance numbers with famous and media personalities of the Kabardino-Balkarian Republic, and at the final concert, which will take place at the end of the month, the audience and the jury will choose the winner.
"I now have two classes a day: I go to the gym and dance classes. I am doing choreography with a mentor - professional dancer Alina Kaloeva. We are preparing two numbers, the topics of which I still keep in secret, "- says the singer.
In addition, Adissa is working on recording new songs. This year she plans to release an album that will include compositions in a new musical style for her. So there are many more interesting things awaiting the fans of the artist. Follow the news and, if you want to support Adissa in the show, be sure to participate in the online voting, which will be held from April 19 to April 29 on the project's Instagram page @tantsuyut_vse
and come to the final concert, which will take place on April 29 in the Great Hall of the North Caucasus State Institute of Arts in Nalchik.