The song "Girl, Dance" performed by Alishka appeared today on the largest digital platforms
The artist wrote this track in collaboration with his friend, having conceived to create a composition under which people will not be able to sit still ...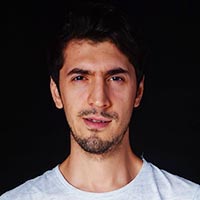 "The very motive of lezginka inspires a person to stand up and" blow up the dance floor "! I just want to dance to it! And since I have been dancing with girls of different nationalities, in different parts of the world for 16 years now, I have long wanted to create a suitable track, with simple words and incendiary music, which will talk about dance, call to it. Today I am pleased to present you with such a song! "Says Alishka.
Soon you will also hear another dance composition by the artist, which is being worked on now.
"I hope that every time I will pleasantly surprise my listeners! Thanks to them for the inspiration! "
Lyrics of Alishka Song "Dance Girl"
Flew in, blushed, looked at me
Conquered, beckoned, and a stream of fire in my chest
I can fry a barbecue on it for you
Conquered, inspired and in love I am now
Smiled and opened a stone door in her heart
You will always be happy with me, believe me
Girl dance with me
Music for you and me
You know I was waiting for you
I waited and you came
Girl dance with me
We spin under the moon
The stars are staring at us
They are with us now
We were surprised, whirled and fell in love then
You and I will probably never forget this dance
When the whole earth burned underfoot
You are with me. I'm with you. This is happiness for two
I'm intoxicated with love, and now I don't care about others
I dance faster from the light of your eyes
Girl dance with me
Music for you and me
You know I was waiting for you
I waited and you came
Girl dance with me
We spin under the moon
The stars are staring at us
They are with us now
Girl dance with me
Music for you and me
You know I was waiting for you
I waited and you came
Girl dance with me
We spin under the moon
The stars are staring at us
They are with us now