Meet the new track of Eldar Agachev - "The Sixth Sense"
The composition on the words and music of Khasan Musaev teaches that nothing lasts forever, and therefore you should not give up in times of life's turmoil.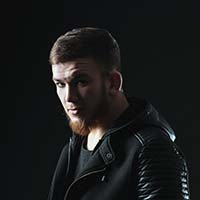 "At the very first listening to the demo, the theme of the song caught me. The idea that, in spite of everything, one must go forward and rely only on oneself is perfectly reflected here, "says the performer.
The single "Sixth Sense" is available on all digital platforms and on our website.
Lyrics of Eldar Agachev's Sixth Sense
Feel the cold, feel the hunger but not love
Feel fear, a knife in your hands, but not love
You see red blood again, but not love
I want to live, we have to avenge us for love
Somewhere high above the clouds
Eyes look at us
You go ahead, I follow you
Somewhere high above the clouds
Eyes look at us
You go ahead, I follow you
You see how your friends give you dreams
So that you fall, so that you don't get up, they just wait
Believe yourself, trust the family will exalt you
Turn your back on friends you're a stranger
The knife is stuck in the back
Somewhere high above the clouds
Eyes look at us
You go ahead, I follow you
Somewhere high above the clouds
Eyes look at us
You go ahead, I follow you
Somewhere high above the clouds
Eyes look at us
You go ahead, I follow you
Somewhere high above the clouds
Eyes look at us
You go ahead, I follow you