Islam Malsuygenov presented a remake of the song "No need to say goodbye to me"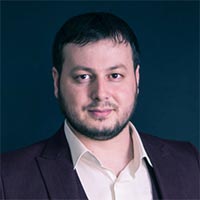 "It's probably not a secret for any of my listeners that I am a fan of the work of one of the best, in my opinion, bards and poets of the Caucasus - Khasan Musaev. I have already performed one song of his authorship - "My World", which many liked, and now I present the second composition.
"You don't have to say goodbye to me" I first heard in 2006-2007, performed with a guitar by Khasan Musaev himself. Since then, I have dried it out many times, and, having started my singing career, I often thought about it, but did not dare to write it down. Only 15 years later, in the eighth year of my musical activity, I still brought this idea to life.
Together with "Petrucho Music" we made a non-standard arrangement: at the beginning the song sounds in a pop style, then it pours into a chanson, and then it acquires a Caucasian flavor thanks to the musical instrument, beloved in our region, - an accordion. Because of this mix and, of course, the semantic depth of the text of the composition, I think many will like it, and I hope that the remake will be liked by the author himself, Khasan Musaev.
Ahead of the listeners there are still many interesting projects - now there are many ideas of their own, the author's. So I hope for the support of the public, "Islam said.
Listen to the single "Don't Say Goodbye to Me" on digital services and on our website.
Lyrics of Islam Malsuygenov's song "No need to say goodbye to me"
You don't have to say goodbye to me
Through tears to smile at me
I'll understand everything.
And if you don't even love
And even if you forget
I will forgive everything
Cold drops of rain
Your words are sharper than a knife
But I will endure
And those deep wounds
I will wash with men's tears
And sleep quietly
And again on a cold night
By the light of a lonely and dim candle
I build verses from lines
You alone - dedicating poetry
I'm trying to hear breathing
Touch their lips goodbye
But I can not
You can't be the same
I pluck all the roots of hope
And I'm leaving
To search and shout where are you
We are no longer children
Understand yourself
You can't help mine
I let the bird go free
Goodbye forever
And again on a cold night
By the light of a lonely and dim candle
I build verses from lines
You alone - dedicating poetry
Dedicating poetry to you alone