In the repertoire Shamilya Kasheshova a new dynamic track appeared - "Sorry"
As the artist said, the story of a lost love described in the composition is taken from life.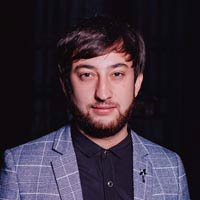 "It is sung here about how a young man for a long time did not notice the warm feelings of a girl who was ready for much for him. This happened to my friend - he did not see the love of a girl because of us, shameless friends, - the performer laughs, - this girl was Diana Kokoeva, now - the wife of my friend, with whom they are now happily married. It was she who wrote the poems for this song, I came up with music on them.
The composition turned out to be bright, I especially like how the vocal part, performed by a female voice, graced the project. "
It is already possible to listen to Shamil Kasheshov's single "Sorry" on digital platforms and on our website.
The performer also shared that soon other musical novelties will be released, most of which are in the Caucasian style.
Lyrics of Shamil Kasheshov's song "Sorry"
I'm sorry I didn't see your love
That you no matter what
Always walked behind me
I'm sorry I didn't see your love
That you no matter what
Always walked behind me
Do you remember how it all started
I was young and stupid then
And you were there, dear
Not listening to stupid girlfriends
And I didn't appreciate it all
And I was only with friends then
But time has changed so much
That friendship and fame are gone
Your miracles caught
I was lifted into the sky
I'm sorry, I'm sorry
Your miracles caught
I was lifted into the sky
I'm sorry, I'm sorry
I'm sorry I didn't see your love
That you no matter what
Always followed me behind
I'm sorry I didn't see your love
That you no matter what
Always followed me behind
But time cannot be returned
Do not forget my mistakes
You left in your memory
Our past love time
But time cannot be returned
Do not forget my mistakes
You left in your memory
Our past love time
Your miracles caught
I was lifted into the sky
I'm sorry, I'm sorry
Your miracles caught
I was lifted into the sky
I'm sorry, I'm sorry
I'm sorry I didn't see your love
That you no matter what
Always followed me behind
I'm sorry I didn't see your love
That you no matter what
Always followed me behind
I'm sorry I didn't see your love
That you no matter what
Always followed me behind
I'm sorry I didn't see your love
That you no matter what
Always followed me behind