If another love left your life with summer, then a new composition Azhay Abakarova @azhay__abakarova "Everything is decided" - exactly for you! Even songs about the separation in her performance are filled with optimism and hopes for the best. And why "play along" with autumn and be sad if it is still clear in your soul thanks to your own determination? ..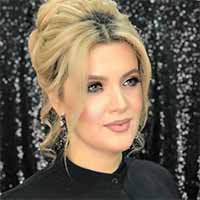 "The track was written by the poetess Svetlana Hasanova and composer Murad Magomedov. These are one of the first authors with whom I began to work, and they again hit the mark, creating a project that harmoniously fit into my repertoire. I hope that the listeners will also like the new product! " - the singer comments.
We suggest you download the new track Azhay Abakarova "Everything is decided" on our website.
Listen and download Azhay Abakarova's song "Everything is decided"
Lyrics of Azhay Abakarova "Everything is decided"
I close the door
I can not, I do not believe
Word games
Such is love
Do you dream about her
And flipping through again
Over and over
Pictures of our dreams
Autumn promised golden
The sun, unkind to me
I didn't wait for something
Heart, and in September
It's just that summer has passed
All that was with us
It was so long ago
Everything is just decided.
My heart is infinitely far
You will not find
It's just that summer has passed
Crossed out our days on the calendar
I don't care now
What rain does autumn write to us on glass
Don't remember me
I close the door, I'm almost there
A long way to go
You know about it but play again
That's the point, you will understand someday
Autumn promised golden
Heaven, unkind days
I did not wait
What awaited the heart did not wait and you
It's just that summer has passed
All that was with us
It was so long ago
Everything is just decided.
My heart is infinitely far
You will not find
It's just that summer has passed
Crossed out our days on the calendar
I don't care now
What rain does autumn write to us on glass
Don't remember me
And in September
It's just that summer has passed
All that was with us
It was so long ago
Everything is just decided.
My heart is infinitely far
You will not find
It's just that summer has passed
Crossed out our days on the calendar
I don't care now
What rain does autumn write to us on glass
Don't remember me
Don't remember me
Don't remember me