Meet the novelty - Lilit @lilitofficial and Gagik Gyurjyan presented a joint song in Armenian - "Qez-qez".
Incendiary composition, the name of which is translated as "Everything for you", tells about beautiful love and mutual feelings. The lyrics to the track were written by the poet Raffi Altunyan, the music by Konstantin Archi.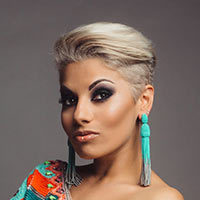 "Gagik Gyurjyan and I are not only colleagues, but also good friends. Today we decided to present our listeners with a good duet song, which sings about the fact that when you love, you share everything in half: joy, heart and soul, "LILIT comments.
A video was also shot for the new single. The clip "Qez-qez" is presented at Singer's YouTube channel and is already available for viewing. Also on the YouTube channel of the music publishing house "Zvuk-M" you can find another video version of the song "Qez-qez".
We remind you that you can listen to the new composition of LILIT and Gagik Gyurjyan at all the largest digital music venues, as well as on our website.
Listen and download the song Lilit and Gagik Gyurjyan "Qez-qez"
[elfsight_instagram_feed id = "86 ″]