The beginning of the 13th Irish Film Festival in Russia is drawing near. It will take place from March 11 to March 22 in four cities of the country: St. Petersburg, Yekaterinburg, Novosibirsk and Moscow.
The festival's program of events will delight you with a variety! Guests will be shown screenings of Irish films of various genres. The sessions will be held in the original language with Russian subtitles. The festival will be held as part of the traditional IRISH WEEK, which includes a 9-hour folk festival "St. Patrick's Day and Night", which will sound the music of Celtic culture from Ireland, Northern Ireland and Scotland, as well as the dance show "St Patrick's DANCE PARADE », Visit an interactive children's concert of Irish music and much more.
The co-founder of this holiday for lovers of Irish culture is the artist of the music publishing house "Zvuk-M" Gerard Michael McCarthy, the author and performer of his own musical project "S for 7", which became known to the general public after the release of the debut single "Stand Up" (available on all major digital sites).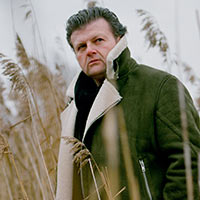 "Irish Film Festival in Russia" is the largest festival of Irish cinema in the world, - comments Gerard, - its goal is to give the public an opportunity to plunge into the atmosphere of Irish culture, experiencing its diversity and flavor. "
This month, Gerard McCarthy, as a writer / director / producer, completed the post-production of a new 25-minute feature film titled "Restoration" (starring Wilma Kutavikute, Petar Zekavitsa, Iris Lebedeva).
Gerard is also a co-founder of the SUBTITLE festival in Moscow. SUBTITLE aims to catalyze the relationship between actors and leading international casting directors. Since 2012, in SUBTITLE (both in Russia and Ireland) participated: Ekaterina Ageeva, Lyubov Aksenova, Masha Andreeva, Paulina Andreeva, Sabina Akhmedova, Elizaveta Boyarskaya, Evgenia Brik, Milosh Bikovich, Daniil Vorobyov, Grigory Dobrygin, Lyanka Gryu, Yuri Kolokolnikov, Egor Koreshkov, Danila Kozlovsky, Ravshana Kurkova, Alexander Kuznetsov, Sofya Lebedeva, Maxim Matveev, Diana Pozharskaya, Maryana Spivak, Daria Zhovner, Kirill Zaitsev, Makar Zaporizhsky and others.
In addition to organizing activities, the artist had a hand in the music and design work of the festival. It was his track that triggered the trailer for the event.
The new single "S for 7" - "Runaway" will be presented at the festival and then will be available for download on the largest digital platforms (from March 11).
About how the Irish Film Festival goes, we will notify you by telling and showing the main points. You can familiarize yourself with the program of events here: irishweek.ru, as well as on the KARO cinema network website, karofilm.ru.