A new author's track has been released Valeria Milyutina - "Recognition"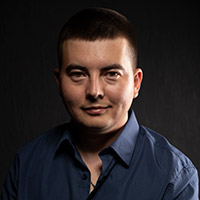 "I am very happy to present this song to dear listeners," says the artist. @v_milyutin, - it is slightly different in style of performance, in comparison with my previous compositions. I'm not an adherent of one thing, every new track I get is independent, individual. And this one is no exception.
It is no coincidence that this beautiful song got the name "Recognition", because in its meaning and presentation it is. To those who follow my work, I would like to say that this composition is in some way a "rehabilitation" after the song "I'm drunk", which tells about the bad behavior of the hero, so to speak. And in the new track, the opposite is true - the reverse, beautiful side of the story, without intrigues and disappointments.
The song was written about two years ago. I remember I had a good day and a very positive mood. This then influenced the idea of ​​the composition. I think that in life, in fate, there is a suitable moment for everything, and now the time has come to present to you, dear friends, this easy, cool track. Listen to it with pleasure, confess your love and love to each other! Don't miss the right moments! "
Lyrics of Valery Milyutin's song "Recognition"
Close your eyes, stay close
May this evening never end
Understanding each other with a glance
We both know for sure - I'm yours, you're mine
Thoughts come true
One air for two
I don't drink anymore, I don't walk
And I don't need others
I declare to my heart
A bird in my palms
Feelings inspire me
Closer to me, come
Your smile is unearthly
And I so want to idolize you
You are not like everyone else, you are not like that
And I want you, to become a wife, to propose
Thoughts come true
One air for two
I don't drink anymore, I don't walk
And I don't need others
I declare to my heart
A bird in my palms
Feelings inspire me
Closer to me, come
Thoughts come true
One air for two
I don't drink anymore, I don't walk
And I don't need others
I declare to my heart
A bird in my palms
Feelings inspire me
Closer to me, come