Ramazan Kaitmesov announced the release of three new products
Half a year fans of creativity Ramazan Kaitmesov waited from a favorite singer music novelties. All this time, the singer selected suitable projects for himself and now he has finally started recording new songs.
There are three compositions in the work: "Guitar", which was written by Aslan Borsov and author's songs of Ramazan himself: "Love is a deception" and "Walk beautiful".
Ramazan Kaitmesov: "I like to make people happy ..."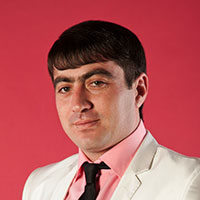 "I like funny, dance tracks. They light the people! And when people are happy, it is doubly pleasant to work, "the artist says," but that's not all. After the release of these songs, and I proceed to record two more. So in the near future five new products are waiting for my listeners at once! "
As the artist said, the latest compositions will be included in the concert program, on which he is working in parallel. The plans of Kaitmesov are to make a video for one of these songs and to give a big concert in the summer where the audience will hear all his new songs. In the meantime, we invite you to listen to the most popular compositions of Ramazan Kaitmesov, prepared by the Yandex.Music service.
Listen to the best songs of Ramazan Kaitmesov