Fans of Caucasian music will definitely appreciate the novelty from Ramazan Kaitmesov @ramazankaitmesov - the song "My Beloved", which was released on July 1.
Incendiary dance composition written by Ruslan Barcho, performed with Ramadan's inherent sincerity, filled with kind words and emotional flavor.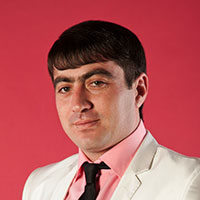 "This is a song for the people! When the heart sings, and the soul asks for a dance. I wish everyone a good mood and happiness! They say that behind every successful man is a woman. The song is dedicated to our soul mates, whose love and support we need so much, "says Ramadan.
"My Beloved" is already available on all digital platforms and on our website. Have a nice listening!
Lyrics of Ramazan Kaitmesov "My Beloved"
I will answer your question, my love
Will I love you? Well of course yes
I can't live without your love - oh you, my love
I breathe you day and night my dear
I cannot live without your love - oh you, my love!
I breathe you day and night my dear
And when I hear your voice, then I'm going crazy
I find no peace - my beauty
I can't live without your love - oh you, my love
I breathe you day and night my dear
I cannot live without your love - oh you, my love!
I breathe you day and night my dear
Drive away your doubts, brush away a tear from your face
Push to my chest, my beauty
I can't live without your love - oh you, my love
I breathe you day and night my dear
I cannot live without your love - oh you, my love!
I breathe you day and night my dear
I will answer your question, my love
Will i love Well of course yes
I can't live without your love - oh you, my love
I breathe you day and night my dear
I cannot live without your love - oh you, my love!
I breathe you day and night my dear