The singer presented a single entitled "Unleashed a War"
New in the repertoire Redji bloom @redji_bloom - the artist introduced a new author's track - "Unleashed a War". In more detail about the composition, as well as about her creative plans, the singer told in a short interview.
- Redji, congratulations on the premiere! Please tell us what was the inspiration for the birth of this single?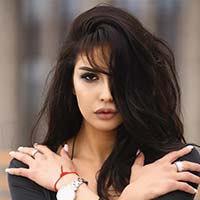 - I try to choose topics that will impress the audience - vital, relevant, deep. And one of them is just revealed here: a very strong-willed woman can turn the whole world up with her willpower, especially when she is disappointed in love. Or, when she loves a lot, there are no barriers in front of her, right?
My task is to hook the hearts of my listeners and accurately convey the feelings and meaning of the song. I am going to this goal, and such tracks are obtained as "Unleashed a war".
- What is the main idea of ​​the new song?
- All strong women on the spot - this is men's work! Women with their heads held high, their elegance, attractiveness - all this happens when men do not neglect them. After all, this is a fact - she remains who she was, but with the advent of an unworthy man nearby, she hides in herself, hides all the best of what she owns! I want to tell my beloved listeners: dear and lovely girls, you must always be who you really are, do not let anyone break you. And for men - to remain men, to value and love their dear ladies.
- Do you plan to shoot a clip for this song?
- Yes, the video should be very emotional and incredibly beautiful. We are preliminarily working on creating quality material. But, by coincidence, in the world, we are forced to delay the filming process for now. Of course, we do not stop and the most important thing is our desire - the soonest amendments in the country, so that everything returns to normal. And how everything will work out, we'll start to deal with the video and prepare new hits.
- We hope this is not far off. What would you like to wish your fans?
- I wish everyone to meet a loved one, and if you have one, then value each other! With love, your Redji Bloom!
Lyrics for Redji Bloom "Unleashed the War"
Do not dial to the phone
the numbers are silent
performance canceled
my voice is hoarse
all phrases past favorite
you are not perceptible again
my indestructible peace
managed to break you again
longing still chokes
and you still need
go inside and not listen
how dare you destroy everything
taxi take me, come on
to the bar where there will be souls
that like me
forgot how to fly
I fastened with love
no longer hurt
sprinkle your soul with salt
and enough tears, quite
I tied to love
you started a war
don't write to us anymore
one story
Don't tell me no words
I can't do it again
as if sleepy again
puzzle details on a new
search
lose
control
I don't know how I will
breathe evenly
everything is floating around
so fast don't hold on
allow me
i will make a choice
if was a favorite
sorry for everything and let me run away
I fastened with love
no longer hurt
sprinkle your soul with salt
and enough tears, quite
I tied to love
you started a war
don't write to us anymore
one story
I fastened with love
We are out of the way
We are out of the way
I fastened with love
no longer hurt
sprinkle your soul with salt
and enough tears, quite
I tied to love
you started a war
don't write to us anymore
one story
I fastened with love
We are out of the way
We are out of the way