"There is no price for good friendship in the world!" - with these words a new song begins Reysana Magomedkerimova @reysan_magomedkerimov_officialwritten by the author of the words and composer Shamil Kasheshov.
The single says that the main value of friendship is not measured in terms of money, it consists in the willingness to help, in fidelity and dedication.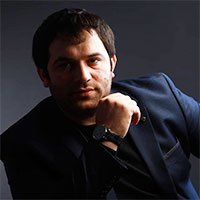 "I want to dedicate this composition to my friends, and in their person - to all those who know how to cherish loved ones, not being hypocritical, not looking for profit," says the performer, "I like that this track turned out to be so energetic, danceable, because happiness always wants joyfully. And to have real friends - this is the happiness that must be appreciated! "
You can listen and download Reisan Magomedkerimov's new single "Price of Friends" on our website right now.
Listen and download Reisan Magomedkerimov's song "The Price of Friends"
Lyrics of Reisan Magomedkerimov's song "The Price of Friends"
And there is no price to good friendship in the world
He who knows he will gain
And if a faithful friend, then this is power
And this friendship will live forever
The price of friends is not listed in kopecks
Today, if tomorrow there is no money
The price of friends when suddenly something is needed
Will come and give support and advice
Thanks to my friends!
For being so sincere with me always
Let the hypocrites pass by
This friendship of money has only a price
The price of friends is not listed in kopecks
Today, if tomorrow there is no money
The price of friends when suddenly something is needed
Will come and give support and advice
The price of friends is not listed in kopecks
Today, if tomorrow there is no money
The price of friends when suddenly something is needed
Will come and give support and advice
I wish everyone to find friends forever
So that you are faithful to the end
After all, if you have friends in this world
It's not terrible in life
The price of friends is not listed in kopecks
Today, if tomorrow there is no money
The price of friends when suddenly something is needed
Will come and give support and advice
The price of friends is not listed in kopecks
Today, if tomorrow there is no money
The price of friends when suddenly something is needed
Will come and give support and advice
The price of friends is not listed in kopecks
Today, if tomorrow there is no money
The price of friends when suddenly something is needed
Will come and give support and advice
The price of friends is not listed in kopecks
Today, if tomorrow there is no money
The price of friends when suddenly something is needed
Will come and give support and advice
The official Instagram of Reisan Magomedkerimov
[elfsight_instagram_feed id = "102 ″]