A beautiful song filled with love for her daughter appeared today in the windows of digital stores - Reysan Magomedkerimov @reysan_magomedkerimov_official presented the track "Daughter".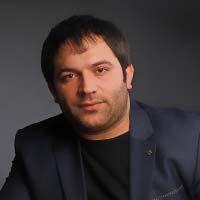 "I have two children - Muhamad and Aishka, and, of course, fatherly feelings could not but affect my work. The new track, in the person of my daughter, I dedicate to all the fathers and daughters who occupy a special place in our hearts.
Thanks to the poet Ganapi Abuyev for so clearly reflecting my thoughts on how important it is for my father to protect his children from all troubles, give them a decent life, protect and care. I also teach this to my son, and the girls are our princesses, they need to be pampered, surrounded by love and made clear - dad is always there, "comments the performer.
Listen to Reisan Magomedkerimov's new song "Daughter" on digital platforms and on our website.
Listen and download Reisan Magomedkerimov's song "Daughter"
Lyrics of Reisan Magomedkerimov's song "Daughter"
My daughter my pride
My child, my joy
Eyes like a crystal shine
My heart is lit
Eyes like a crystal shine
My heart is lit, daughter
Daughter, I love you flower, daughter
Daddy gentle angel, daughter
I will give my life for you
Daughter, daddy princess my light, daughter
Know that I'm always with you, daughter
You are the sun and you are my joy
I'll hide under my wing
I'll cover you from troubles
My daughter is my jana
My daughter is my jana
The long-awaited and desired
Long-awaited and desired, my daughter
Daughter, I love you flower, daughter
Daddy gentle angel, daughter
I will give my life for you
Daughter, daddy princess my light, daughter
Know that I'm always with you, daughter
You are the sun and you are my joy
Daughter is my reward in life
All my thoughts about you
I am very worried
My daughter, my flower
I worry very much, you are my scarlet flower, daughter
Daughter, I love you flower, daughter
Daddy gentle angel, daughter
I will give my life for you
Daughter, daddy princess my light, daughter
Know that I'm always with you, daughter
You are the sun and you are my joy
Daughter, I love you flower, daughter
Daddy gentle angel, daughter
I will give my life for you
Daughter, daddy princess my light, daughter
Know that I'm always with you, daughter
You are the sun and you are my joy