New song in the repertoire Reysana Magomedkerimova @reysan_magomedkerimov_officialwritten by Khalif, - "Lovely Eyes", about a novel that cannot be forgotten. A bright, summer dance track for a good mood is already available for listening on digital venues and on our website.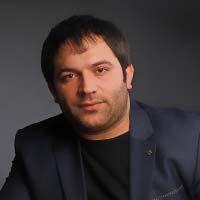 "Life needs to be filled with colors: good memories, pleasant music, happy emotions, and we tried to combine this in a new dynamic composition. The audience appreciated our projects with Khalif, this inspires us to continue working in a popular style. I hope that you will like the Dear Eyes single, but we are already preparing another novelty for you, "the artist shared.
Lyrics of Reisan Magomedkerimov's song "Lovely Eyes"
I remember your eyes
You looked to the sky and a tear was rolling
A dull pain in my heart
Soared like a swan, you forget about it
Who can understand our path
Who can not help but offend, do not deceive
And now he finished the novel
We, as melancholic people, believe in deception
I will not forget, I will remember
Cute eyes, cute eyes
Cute eyes
I will not forget, I will remember
Cute eyes, cute eyes
Cute eyes
I remember you and your love
You are my sweet dream, you are my anesthesia
My whole world burns without you
I burn without you
Who can understand our path
Who can not help but offend, do not deceive
And now he finished the novel
We, as melancholic people, believe in deception
I will not forget, I will remember
Cute eyes, cute eyes
Cute eyes
I will not forget, I will remember
Cute eyes, cute eyes
Cute eyes
I will not forget, I will remember
Cute eyes, cute eyes
Cute eyes
I will not forget, I will remember
Cute eyes, cute eyes
Cute eyes
I will not forget, I will remember
Cute eyes, cute eyes
Cute eyes
I will not forget, I will remember
Cute eyes, cute eyes
Cute eyes