Reysan Magomedkerimov presented a new author's composition, which this time he dedicated to the popular topic of breaking up relations
The song "Goodbye", which tells about separation and loneliness, appeared on digital platforms today.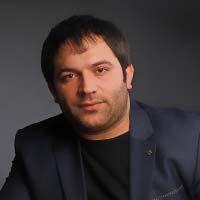 "Dear friends, please welcome my new track! I hope he touches your hearts and gives you vivid emotions. Thanks for your support! It is she who inspires me to work, "the performer addresses the audience.
Together with the single, the video of the same name was released, which shows an episode from the life of the heroes of the song, experiencing a breakup. The soul cries out in pain, memories torment the thoughts, but, as the song says, "you can't help your heart with tears ...". The video was filmed in Derbent. The director-scriptwriter worked on it Namik Kazym (Alyev) and camera-editor Faik Akhmedov. The main female role in the video was played by Rumina Ashurova.
Lyrics of Reisan Magomedkerimov's song "Goodbye"
You said you needed two
To save your love
Now you're asking to let go
I'm not in your hands I'm sorry
Why hope that as before
You will be my girl
As if there weren't those days
When you played love
You can't help your heart with tears
So know
Now you have given paradise
Now I decided to steal everything
My soul cries out in pain
Do not bother
Like the wind in a free field
So I'm alone and you are goodbye
Like the wind in a free field
So I'm alone and you are goodbye
I will not search, because I am stubborn
And I will endure this pain
I dream of you, but I am sad
I'll sing to you today
I enjoyed a beautiful bird
I drank my glass of love to the bottom
And this is not my fault
That you burned the wings yourself
You can't help your heart with tears
So know
Now you have given paradise
Now I decided to steal everything
My soul cries out in pain
Do not bother
Like the wind in a free field
So I'm alone and you are goodbye
You can't help your heart with tears
So know
Now you have given paradise
Now I decided to steal everything
My soul cries out in pain
Do not bother
Like the wind in a free field
So I'm alone and you are goodbye
Like the wind in a free field
So I'm alone and you are goodbye