The dynamic composition "Heart is like ice", to the verses of Kirsan Dubaev and the music of Ruslan Abdokov, Reysan Magomedkerimov @reysan_magomedkerimov_official calls the track that determined the musical style in which the artist is going to work in the future. Today, the novelty appeared on the windows of all digital stores.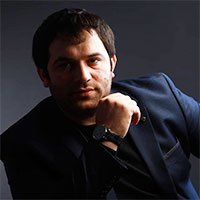 "This song gave me a new audience, gave me motivation, expanding the circle of listeners across the country. It is in this musical direction that I am going to build a repertoire now. Thank you all for your inspiration and pleasant listening! " - says the artist.
Listen and download Reisan Magomedkerimov's new single - "Heart Like Ice" on our website and on major music services.
Listen and download the song of Reisan Magomedkerimov - "Heart is like ice"
The lyrics of Reisan Magomedkerimov's song - "Heart is like ice"
Your sweet, alluring scent
The poison has blinded, love, caught your eye
Like a prisoner in this world
From fate no longer escape
Maybe war has now settled in my heart
Who is wrong, loved. Never understand
That's all we survived.
We will forget how dearly loved
I loved you, it was in vain
But then I did not know what was not for me
Your heart sings songs
Tears by the stream, and ice in the heart
I loved you, it was in vain
But then I did not know what was not for me
Your heart sings songs
Tears by the stream, and ice in the heart
Left thoughts, now in the heart of winter
I thought we would be together forever
This time is lost
All that ours we did not notice
For you, I was a game in your life
He ruined himself when they were with you
This is your short-sighted dream
Without you, this world is lonely
I loved you, it was in vain
But then I did not know what was not for me
Your heart sings songs
Tears by the stream, and ice in the heart
I loved you, it was in vain
But then I did not know what was not for me
Your heart sings songs
Tears by the stream, and ice in the heart
I loved you, it was in vain
But then I did not know what was not for me
Your heart sings songs
Tears by the stream, and ice in the heart
I loved you, it was in vain
But then I did not know what was not for me
Your heart sings songs
Tears by the stream, and ice in the heart
I loved you, it was in vain
But then I did not know what was not for me
Your heart sings songs
Tears by the stream, and ice in the heart
I loved you, it was in vain
But then I did not know what was not for me
Your heart sings songs
Tears by the stream, and ice in the heart