"Malkarymda Toy" ("Wedding in Balkaria") - the first album of a famous singer Nata Sozaeva @natu_sozaeva. The EP includes four compositions in the Russian and Balkar languages, including the author's "Inarla" ("Chastushka").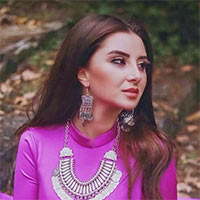 "I worked on this album for a very long time, intermittently. Creativity for me was up to a certain point more of my inner hobby, but it is definitely love! Love that manifests itself in everything. And it is spoken about in my songs. Love for the homeland, for his people, for customs. And dancing (that) is more a celebration that accompanies the most joyful events, such as the birth of a new family and the appearance of a baby. I am very pleased that these traditions and customs are observed by my Balkarian people and other peoples of the Caucasus. We are much impoverished, and this cannot please us, because we, as one big family, speaking the same language - the language of dance and music. Therefore, in the future I plan to record songs in different languages ​​of the peoples of the Caucasus, "Natu shared.
We invite you right now to get acquainted with the album "Malkyarymda Toy" - for listening and downloading it is available on our website and on all digital music venues.
Listen and download Nata Sozayeva's album "Malkarymda Toy"