Fans of creativity Ruslana Kaytmesov waited for the release on digital platforms of the artist's new song - "Happiness"
This composition is a joint work of Ruslan with Zumrud Musieva, who was the author of words and music.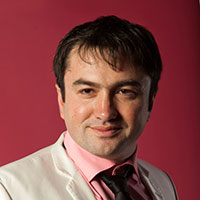 "When choosing a new song for work, I always try to choose what is close to my soul, taking into account what I feel at that moment. Many of my compositions were written by people who know me well, or we always communicate with the author before the birth of the project, and this helps them to clearly convey the state of my soul. So "Happiness" reflects precisely the enjoyment of silence when the heart is calm and does not want big words. And I simply wish the listeners happiness, because for everyone it's their own, "the performer says.
The new single is already available on digital platforms and on our website.
Lyrics of Ruslan Kaitmesov's "Happiness"
People say
That happiness loves silence
And here I am to tell
I already want all about you
When I'm crazy
When my eyes burn
It seems to me
What is everyone happy for me
Happiness is like a sip of wine
Red wine, sweet wine
Just to fully understand it
I finish the wine, should only go to the bottom
Happiness is like a sip of wine
Red wine, sweet wine
Just to fully understand it
I finish the wine, should only go to the bottom
To the dregs
Thank fate
I will never tire
For everything, and for the children
For the fact that I have you
Let everyone find
Who believes in the best always
Happy love
Such as mine
Happiness is like a sip of wine
Red wine, sweet wine
Just to fully understand it
I finish the wine, should only go to the bottom
Happiness is like a sip of wine
Red wine, sweet wine
Just to fully understand it
I finish the wine, should only go to the bottom
To the dregs
People say
That happiness loves silence
And I do not believe them
I only believe in my fate
What will be ahead
What dreams will come true
All for the best
Your fate is in your hands
Happiness is like a sip of wine
Red wine, sweet wine
Just to fully understand it
I finish the wine, should only go to the bottom
Happiness is like a sip of wine
Red wine, sweet wine
Just to fully understand it
I finish the wine, should only go to the bottom
Happiness is like a sip of wine
Red wine, sweet wine
Just to fully understand it
I finish the wine, should only go to the bottom
Happiness is like a sip of wine
Red wine, sweet wine
Just to fully understand it
I finish the wine, should only go to the bottom
To the dregs