The artist presented a new track
Fans of creativity Ruslana Sobieva almost half a year they were waiting for the release of new products from the singer. And today the artist presents a new single - "The Soul of My Soul" - a bright and at the same time heartfelt composition, to the words of Ruslana herself and music Azat Avetisyan.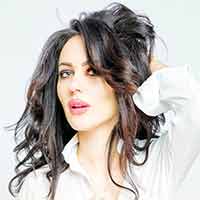 "I haven't delighted my listeners with solo songs for a long time, finally, I got my hands on it," says the performer, "the chorus was written much earlier, was waiting in the wings. Initially, the composition was supposed to be slow and lyrical. But I decided that I want a fast track, dynamic. Azat Avetisyan, my friend and a talented arranger, helped me to make it exactly like this: he finished the music for the verses and made the arrangement. I supplemented the text. In general, we did a great job together! I hope that the listeners will like the song, as well as my other projects. It is somewhat different from the previous ones. But an artist must be different, interesting, change images and styles so as not to bore the modern spectator spoiled with a lot of music. "
Ruslana also said that she plans to release a slow version of this composition in the future. In the meantime, we invite you to get acquainted with the new product - it is already available on streaming sites and on our website.
Lyrics of Ruslana Sobieva's song "The Soul of My Soul"
I'm running on thin ice
Behind you into fog and darkness
I want to become your sky
So that you can fly in me
You attract me like a magnet
You heal and rebuild wounds
Repeat your voice again
He promises me love
I'm like a shadow behind you
I will not get tired night and day
Fire and ice between us
It will never go away
You hit my temple
You seem to be running through your veins
I will tell you a secret
I just don't exist without you
I will tell you a secret
I just don't exist without you
I just don't exist without you
You are the soul of my soul
Angel that hurries to me
A song for me alone in the stillness of the night
You are the soul of my soul
Angel that hurries to me
A song for me alone in the stillness of the night
Dots are not needed
And words don't matter anymore
You save me again
And let no one know
Let's draw love together
My heart is on fire
Asking for nothing in return
Take me captive
All passwords and all keys
I give it to you, don't be silent
I'm like a shadow behind you
I will not get tired night and day
You hit my temple
You seem to be running through your veins
I will tell you a secret
I just don't exist without you
I will tell you a secret
I just don't exist without you
I just don't exist without you
You are the soul of my soul
Angel that hurries to me
A song for me alone in the stillness of the night
You are the soul of my soul
Angel that hurries to me
A song for me alone in the stillness of the night
You are the soul of my soul
Angel that hurries to me
A song for me alone in the stillness of the night
You are the soul of my soul
Angel that hurries to me
A song for me alone in the stillness of the night