Rustam Nakhushev's video for the new single - "Aravay" has been released
Dancers from the folk ensemble of the Kabardino-Balkarian Republic "Nasyp" took part in the filming.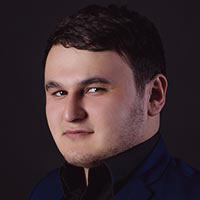 "The audience liked the song" Aravai ", I hope they will like the video too! Thank you all for your feedback and enjoy your viewing! " - says Rustam Nakhushev @ r.nahushev
The premiere of Rustam Nakhushev's new song "Aravay" took place on June 18, 2021; The melody of this composition is quite popular in the South of Russia - it is a fast and danceable motive familiar to many with elements of ethnic Caucasian tunes. The text of the song was written by Artur Kencheshaov.
Lyrics of Rustam Nakhushev's song "Aravay"
Many stars in the sky, but one is needed
Even though she's near, just as far away
As she leaves - the night falls
Only I chase all sorrows away
Araway, wai, wai, wai, wai, wai
You hurt your heart, don't play with love
Araway, wai, wai, wai, wai, wai
Don't run away from fate in vain
Araway, wai, wai, wai, wai, wai
And in a smile I find my paradise
Araway, wai, wai, wai, wai, wai
Don't let go of my hand
I meet the sun and the warmth of spring
But the eyes of the beloved are also cold
Sweet smile will rise like a rainbow
I'll take your hand and the ice will melt
Araway, wai, wai, wai, wai, wai
You hurt your heart, don't play with love
Araway, wai, wai, wai, wai, wai
Don't run away from fate in vain
Araway, wai, wai, wai, wai, wai
And in a smile I find my paradise
Araway, wai, wai, wai, wai, wai
Don't let go of my hand
Araway, wai, wai, wai, wai, wai
You hurt your heart, don't play with love
Araway, wai, wai, wai, wai, wai
Don't run away from fate in vain
Araway, wai, wai, wai, wai, wai
And in a smile I find my paradise
Araway, wai, wai, wai, wai, wai
Don't let go of my hand