Another novelty from Rustam Nakhushev appeared on the windows of digital stores
The artist presented a song about parting - "It Hurts, It Hurts", the words and music for which he wrote himself.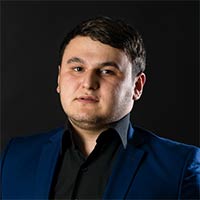 "This is a story about impossible love and the feelings of the main character of the song. I am sure she will find a response in the hearts of the audience, "says Rustam.
The track is already available on all digital platforms and on our website.
Lyrics of Rustam Nakhushev's song "It hurts, it hurts"
What makes the heart sad again
Maybe love came
But when you meet you look away
You say love you
But I can't be with you
You were a little late and I gave another heart
It hurts, it hurts to know that it's not mine
I have no will to forget you
Howling at the moon again, again without you
My love lived only with you
Why do I need fate again
Unfortunately love gave
I suffer and you laugh again
Come on finally tell me
How much you love
How you miss me again it's love
It hurts, it hurts to know that it's not mine
I have no will to forget you
Howling at the moon again, again without you
My love lived only with you
It hurts, it hurts to know that it's not mine
I have no will to forget you
Howling at the moon again, again without you
My love lived only with you
It hurts, it hurts to know that it's not mine
I have no will to forget you
Howling at the moon again, again without you
My love lived only with you