Stage colleagues and friends in life Rustam Nakhushev и Shamil Kasheshov Have been planning a joint project for a long time and finally found a suitable song. Meet the song "Everything is changing", the release of which took place today!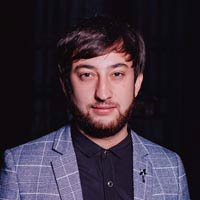 "For me, this duet is something new, interesting, and Rustam has not yet recorded songs in this style," Dagestan ", let's say," says Shamil, "when I heard a demo from the author Zumrud Musieva, I immediately realized that we had this composition will do just fine. Rustam agreed and we recorded it easily. It was easy to work.
I think the audience will appreciate the text, and the motive, and the arrangement and the powerful timbre of Rustam, our performance, because the whole project as a whole turned out to be excellent! Enjoy listening to everyone! "
Lyrics of Rustam Nakhushev and Shamil Kasheshov's song "Everything is changing"
Everyone's life is so different
Someone poor, someone I am not me
They play life so everyone knows
Each by itself
Your neighbor is lucky
Fortune hugged only him
Well, and you finish your warm tea
And look do not be shy, do not be shy
Everything changes in life always
Know you this is a friend for yourself
And the rich man might be, become nothing
With a bunch of different problems, problems
Everything changes in life always
Know you this is a friend for yourself
Without having time to look back fate
Will give you a bird of happiness
The rich cannot understand the simple
The goal is one - to buy or sell
How much money, so much evil and lies
Not my kings
Will not give a poor man a hand
Will make fun of insidious and betray
Only he has one task
Always be richer than you
Everything changes in life always
Know you this is a friend for yourself
And the rich man might be, become nothing
With a bunch of different problems, problems
Everything changes in life always
Know you this is a friend for yourself
Without having time to look back fate
Will give you a bird of happiness
Don't bend your soul
And do not anger your fate
God gives us all at least once
Trials chance
And let your pockets be empty
You go ahead, don't you sit
And you will meet good luck, do not forget
How thorny was your path, your path
Everything changes in life always
Know you this is a friend for yourself
And the rich man might be, become nothing
With a bunch of different problems, problems
Everything changes in life always
Know you this is a friend for yourself
Without having time to look back fate
Will give you a bird of happiness