The release of a new track took place Rustam Nakhusheva "Magadan", and with it - the premiere of the video for this composition
I wrote the words to the song Arthur Kenchesha, music - folk, in the processing of the performer himself.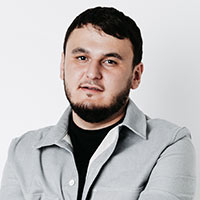 "This is a story about a convict who lives in the hope of meeting his beloved. The expectation gives him strength and helps him come to terms with his fate: "Thoughts about you are my freedom, and the convoy will not take it away ...". The topic is not cheerful, but we tried to present it energetically, smartly and sincerely. I hope this work will resonate in the hearts of the listeners," the artist comments.
By tradition, the new composition was published simultaneously with the video of the same name, in which the director Magomed Kumykov ("Octava") showed the long-awaited meeting of the main character of the song with his beloved, who did not expect such a surprise ...
"We shot the clip in Pyatigorsk and Nalchik," says Rustam, "it was an exciting process in which many actors were involved. The shooting was dynamic, smooth and fun at the same time, and the result even exceeded my expectations.
Oleg Kim perfectly played the role of a former prisoner, many thanks to him! And special thanks to the EUREKA Quest Center. It is with great pleasure that I present my new work and wish you all a pleasant viewing! Thank you for your support and love for my work! "
Lyrics of Rustam Nakhushev's song "Magadan"
In life, at least I did not grow up as a bully
But sharp knives sparkled
I'm now in the shackles of Magadan
Only you dear wait for me
I'm now in the shackles of Magadan
Only you dear wait for me
Night fell over Magadan
The stars are lost in the dark
Only I will not fall in spirit
I will return beautiful to you
Only I will not fall in spirit
I will return beautiful to you
And behind bars I'm wasting years
But in your heart you are sweet with me
Thinking about you is my freedom
And the convoy will not take her away
Thinking about you is my freedom
And the convoy will not take her away
Night fell over Magadan
The hustle and bustle died down by the moon
I'm sad for you, my dear
Heart asks for you
I'm sad for you, my dear
Heart asks for you
I'm sad for you, my dear
Heart asks for you