"There is a wound in the heart" - a novelty in the repertoire of Rustam Nakhushev
A composition about love forever, presented in a new musical style, the artist co-wrote with Khalif.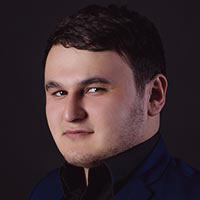 "It all started with the chorus he showed me. I was hooked, and literally in a few minutes we finished the verses, and within a day we finished off the song with the arranger Ruslan Abdokov.
I love to improvise and try new styles, it's a fresh breath of creativity. I think the audience will appreciate it, "says the performer.
Rustam also said that he is currently preparing two more compositions for release:
"A game of love" and "I walk drunk."
"Let's see how the public reacts to the single" In the Heart of the Wound "and next we will release a track in the genre that they like best," comments the artist.
Rustam Nakhushev on the recording of the track "There is a wound in the heart". Video
Lyrics of Rustam Nakhushev's song "A wound in the heart"
My heart sings about my love
Soul wounds are not scary to me with her
Maybe fate gave you to me
I would know how I love you
After all, you are my sweet, tender
Flowers of the whole world for you
I will remember your eyes forever
I will stay with you darling
For you the moon in the sky
You are my love forever
There's a wound in my heart without you
Drunk with you without wine
For you the moon in the sky
You are my love forever
There's a wound in my heart without you
Drunk with you without wine
What am I to do, love her
Roses, gifts are not for her
Wants love only from me
Knows that she is alone in her heart
You know that I will not give
I won't give you to anyone
The whole world at your feet
Love is given to both of us
You know that I will not give
I won't give you to anyone
The whole world at your feet
Love is given to both of us
For you the moon in the sky
You are my love forever
There's a wound in my heart without you
Drunk with you without wine
For you the moon in the sky
You are my love forever
There's a wound in my heart without you
Drunk with you without wine
For you the moon in the sky
You are my love forever
There's a wound in my heart without you
Drunk with you without wine
For you the moon in the sky
You are my love forever
There's a wound in my heart without you
Drunk with you without wine