The artist presented another novelty today - an author's track called "Autumn Rain". A composition about love "washed away by raindrops" Rustam Nakhushev @ r.nahushev I wrote it myself.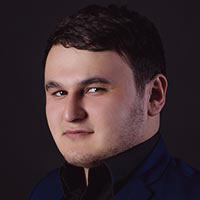 "If you put emotions into a song, they will surely find a response in the souls of people. After all, the listener cannot be fooled. And this single is just for "crying hearts" who have gone through, or are now experiencing parting. From the weather outside the window - from the autumn coolness and eternal downpours, the feeling of loss only increases, "cuts the soul" - as the song says - but there is always hope that with the last drop of autumn rain your suffering will dissolve in puddles ... ", - comments the performer ...
We invite you to get acquainted with the new artist's track right now! The song is already available for download on the windows of all digital stores, as well as on our website.
Listen and download the song of Rustam Nakhushev "Autumn Rain"
Lyrics of Rustam Nakhushev's "Autumn Rain"
Following the sunken sun
In the sunset of a lived day
Our love is like light
Will come, and with it a dream
This fate decided for us
What should we leave?
Maybe then you hurried
Maybe it's all because of me
And behind the glass, autumn rain again
Heart cries, cuts your soul soul
I know you do not love, but my soul called
Our love was washed away by raindrops
Forget how you and I loved
Don't remember this love
Your eyes then captivated
Now there is only, only pain
And do not return to us all that was
No matter whose fault it was
Now our chest is cold
What burned with flame then
And behind the glass, autumn rain again
Heart cries, cuts your soul soul
I know you do not love, but my soul called
Our love was washed away by raindrops
And behind the glass, autumn rain again
Heart cries, cuts your soul soul
I know you do not love, but my soul called
Our love was washed away by raindrops
And behind the glass, autumn rain again
Heart cries, cuts your soul soul
I know you do not love, but my soul called
Our love was washed away by raindrops