The release of a new single and video took place Rustam Nakhusheva
"You will recognize the word" pain ", you will not be able to forgive me…", - the star of the Caucasian stage Rustam Nakhushev sings in a new song. Composition to words and music KhaliFа the artist presented today, together with the video of the same name, revealing in the plot the story of disappointment in love ...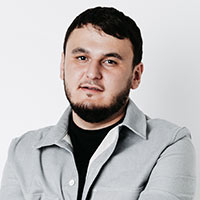 "In this video, another exciting story awaits viewers. The main roles were played by me and a talented girl Elena Shevchenko, who got used to her role from the first frame. It was fun and easy for us to work, all the positive emotions that you will see are genuine, real. Trying to convey the serious at the end was more difficult. But I think we did it. Thanks for the work to the Octava team. Hope everyone will enjoy the clip! I will look forward to receiving feedback and comments, "says the performer.
Lyrics of Rustam Nakhushev's song "And you looked at me"
Our warm evening under the moon
We were happy with you
Then I didn't know why
I fell in love with you and what
There will be no happiness for centuries
I'll leave, I'll leave you
Stream of tears, my heart is in pain
Remained in memory with you
And you looked at me
With loving eyes
Looked at me
And I seemed to froze
Don't love, dear, stop
I'm not that good
You will recognize the word pain
You Can't Forgive Me
Years will pass and you will love again
You will meet crazy love
Forget your heart
Forget parks and movies
After all, everything in life is a foregone conclusion
Someone is not given happiness
When it comes - a thin trail
When it leaves, it loses its light
And you looked at me
With loving eyes
Looked at me
And I seemed to froze
Don't love, dear, stop
I'm not that good
You will recognize the word pain
You Can't Forgive Me
You were a game to him
He just loved was bad
Insidious love is blind
The fate of the villain sometimes
You will find happiness and peace
Will someone else fall in love
And he will be left alone
Will love, but not love
And you looked at me
With loving eyes
Looked at me
And I seemed to froze
Don't love, dear, stop
I'm not that good
You will recognize the word pain
You Can't Forgive Me
You will recognize the word pain
You Can't Forgive Me