Caucasian pop star Rustam Nakhushev introduced a new single - "Zulfia"
The artist often includes in the repertoire songs he loved since childhood, and today's novelty is no exception.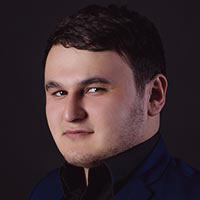 "This composition was written by Hakim Zholayev," says the performer, "I don't know her story, but I always liked her very much because of her sincerity. Therefore, I wanted to release in a new processing. I want to thank the audience for waiting so much for this premiere. I hope you will like it. And we will try not to delay the releases anymore. Enjoy your listening! "
The single "Zulfia" is available on all digital platforms and on our website.
Lyrics of Rustam Nakhushev "Zulfia"
Every evening
I go out secretly
I go out into the field
Zulfiya
I love you
I can not live without you
Even pity me
My Zulfia
I love you
I can not live without you
Even pity me
My Zulfia
Like the stars in the sky
Your eyes are burning
Shine like the moon
Zulfiya
And I'm afraid in return
Hear the word no
Even pity me
My Zulfia
And I'm afraid in return
Hear the word no
Even pity me
My Zulfia
Friends tell me
What am i suffering
Doctors tell me
I'm sick
No, I'm not sick
No i don't suffer
Just love you
My Zulfia
No, I'm not sick
No i don't suffer
Just love you
My Zulfia
No, I'm not sick
No i don't suffer
Just love you
My Zulfia
Just love you
My Zulfia