New single released Rustam Nakhusheva - "Green-eyed"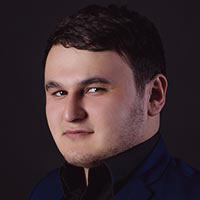 "This song is our new project with Khalif as with the author. We started working on it back in July and today we are finally happy to present a new track! Thanks to everyone who was waiting for the premiere, supported me with kind comments on social networks, I hope that you will like Green-Eyed! ", Says Rustam.
Soon another novelty awaits the artist's listeners - a mini-album will be released. The singer said that several projects are currently in the works, so stay tuned and don't miss the release of releases. From today on, the composition is available for listening at music venues and on our website.
Lyrics of Rustam Nakhushev's song "Green-eyed"
Hear me honey
Heart on fire without you
Only pain in your eyes
I know you cry without me
You are sweet, your love
The heart will tear apart
Only you have pain
I know you are not crying from happiness
Love is insidious, green-eyed
Dream you for me, came out of the blue
The soul sings alone, fate is with me sing
That night above the clouds I remember your voice
After all, you are given to me by fate
Lost my peace with you
Open your heart to me
Became dear to me
Fog all around, silence
Know that you alone are needed
Sheer deception without you
Don't go I need you!
Love is insidious, green-eyed
Dream you for me, came out of the blue
The soul sings alone, fate is with me sing
That night above the clouds I remember your voice
Love is insidious, green-eyed
Dream you for me, came out of the blue
The soul sings alone, fate is with me sing
That night above the clouds I remember your voice