A new author's composition has been released Saro Vardanyana - "My woman"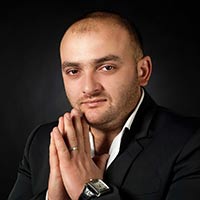 "Surely, in the life of every person there were moments of deception and betrayal, - says the artist, - no one is immune from mistakes, but they often lead to irreparable losses. But even such sad events inspire creativity. This song was born - from memories, echoes of experiences, feelings familiar to all.
By investing a piece of my soul into each project, I hope that the audience will feel the energy of the song, its main message. So I'll be waiting for your feedback. Enjoy listening! "
The single "My Woman" was released simultaneously with the video filmed in Moscow by the "Molotok Pro" company.
"It was very interesting shooting, - says Saro, - according to the plot, a girl is being taken away in front of the main character. The role of the opponent, by the way, was played by the participant of "Dom2" Daniil Sakhnov. Whether the main character will forgive such a betrayal - you will find out by watching the video. It seems to me that we played the roles quite convincingly, so get ready - the plot will captivate you! "